3 ways to improve your website
Your website is the shop front for your customers. Just like a real shop front, it needs to be attractive, enticing, and let people know what you're offering in a simple and concise way.
Creating an effective website isn't easy, though. It takes a lot of effort to create as well as on-going support to make sure it's up-to-date and working properly. A website isn't something that you can set and forget, you need to continuously work on it to make sure that your visitors are getting the best experience possible!
In this blog, we're going to walk you through a few easy ways to improve your website. There's always more you can do, though. Keep track of your website's analytics and find out what's working and what isn't, and make changes from there!
Don't have a website yet? Have you made some changes but are still worried about your website's performance? Get in touch with our team of web experts today and find out how we can help you make the most from your web presence!
1. Simplify your menu
Your website's menu is crucial in navigating your visitors to products, key pieces of information, or ways to get in contact with you. Overloading your menu can confuse them, which may lead to someone not being able to find what they need, causing to leave your website and go somewhere else.
The best way to avoid this is to simplify your menu. To start, think about your customers. Ask yourself the following questions:
Who are my customers?

Your customers will often be made up of a variety of different demographics. Each demographic will have different needs and potentially desire different outcomes. Bear this in mind when designing your website.

What are they trying to find on my website?
What do I want my customers to do on my website?

This is called a conversion. As an example, I might want my customers to call me to find out more about my services. Every time a customer does this, it will count as 1 conversion.
Your menu structure should reflect what your customer wants. There's no need to put a section in your header if it won't help your customers do what they want to do.
Remember, keep your menu simple. Try and limit the number of menu items to 4 or 5, and feature a strong call to action, such as 'Book a Meeting'.
If you're running an e-commerce website, this will be slightly different for you. Instead, organise your products into suitable and logical categories. Feature your best-selling products nearer the top of your menu. The same objective of simplification even applies here, though. Whilst you might have a lot of products and categories, try and make your main menu focused and concise so that customers don't get overwhelmed.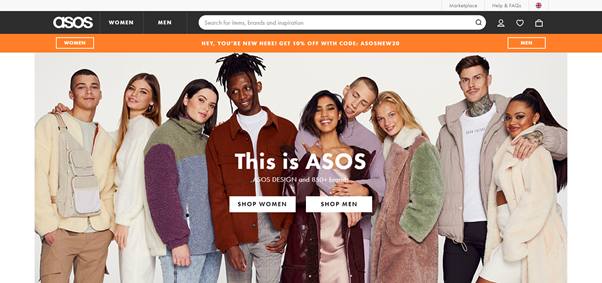 2. Create powerful call to actions
One of the most common mistakes we see on websites is the use of weak call to actions or even the lack of a call to action altogether! By giving your customers an action to take, such as 'shop women' or 'shop men' in the Asos example above, you're guiding them and making their experience less stressful.
It's also the best way of directing your customers to take the actions that most benefit you. For ASOS, this is getting their customers to browse the clothing they have on offer. They do this by providing 2 call to actions that anyone coming to the website will most likely want to do. They know that the closer they get their customers to amazing looking clothes, the higher the chance that they will buy something!
Still confused about how to write a great call to action? Here are some questions you can answer to help guide you towards your perfect call to action:
What is the purpose of your website? How is it going to help your business be successful?
When someone visits your website, what is the number one thing that you want them to do?
With that action in mind, what are 2 or 3 words that could guide them to that section of your website?
To help you answer those questions, let's look a few real-life examples: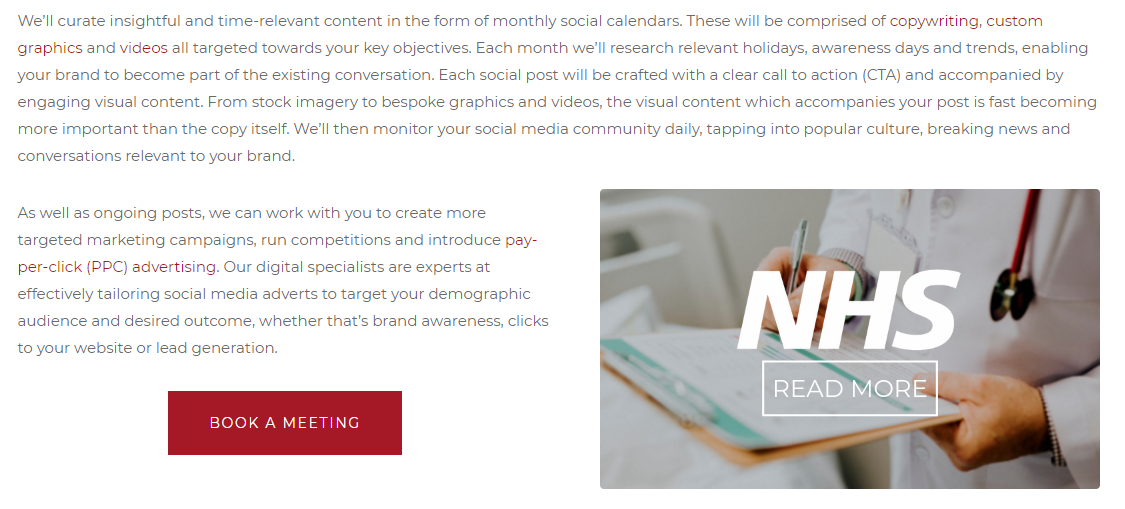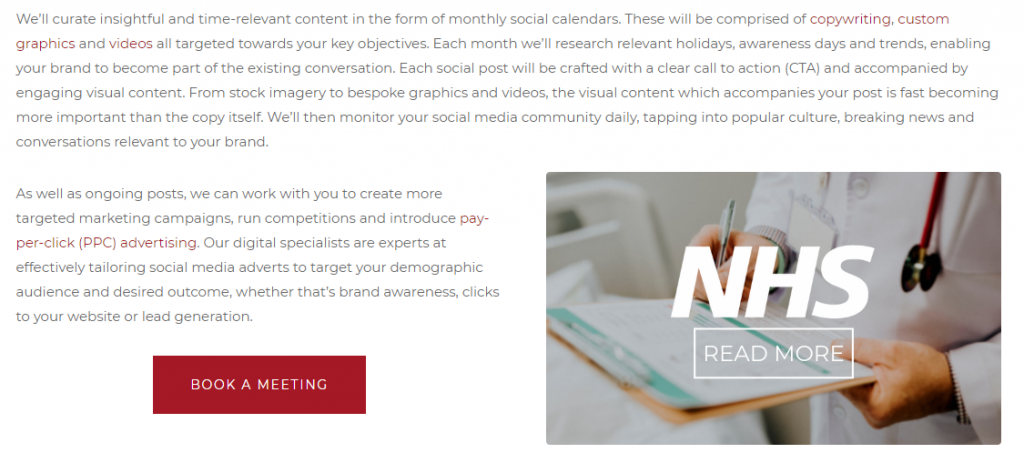 At redPepper Marketing, the main purpose of our website is to convince wonderful customers, like yourself, to speak to us about how we can improve your marketing! With that in mind, we decided that the most desirable thing a customer could do to achieve this is to be able to book a meeting with us at the touch of a button.
Netflix know that the most attractive prospect of their platform is the high-quality and large quantity of television shows and movies available on their platform. The best way to convince people to sign up to it is by letting them try before they buy! They make this simple for their website visitors by providing a one-button approach that lets them sign up and try it out.

Spotify combine a strong core message with a captivating call to action. They open by saying that there's music for everyone on their platform and that there's loads of music on offer. They follow us up by saying that you can get it for free. Once again, they know that once you're signed up and you've seen how great the platform is, that will convince you to buy! Therefore, the most desirable action for their website visitors is to get them to download Spotify.
Writing a great call to action is difficult. Sit down with your team and brainstorm some ideas. Try answering the questions above, find other examples of great call to actions, and take a look at what your competitors are saying. Above all, keep it simple, keep it concise, and make sure you're providing your customer with an action that benefits both you and them.
3. Improve your mobile experience
In 2020, it's almost a certainty that more mobile users will visit your website than desktop users. If your website isn't prepared for this then you're risking the loss of potential customers due to a poor mobile experience.
To start, test how your website runs on your phone. Go through the pages, explore its functionality, and get your colleagues to do the same. Make a list of any issues or problems that crop up. Every one of these issues could be something that convinces a visitor to leave your website, and we don't want that to happen before they've converted!
As well as obvious problems, such as bugs and glitches, it's important to think about your mobile experience from a customer's perspective. Ask some friends and family to visit your website and test it out. Preferably, this should be people who have never accessed the website before. Get their candid feedback and add it to your list.
Finally, it's time to engage with a web developer. If you already have one, great! Either way, speak to them and tell them that you're trying to improve your mobile experience. They will undoubtedly be able to add further things to your list of improvements and help you make your mobile experience more seamless for customers.
Often, businesses will create an entirely distinct version of their website just for mobile users. This ensures that the website has been designed from the ground up with mobile in mind, rather than being adapted later. Don't worry about this unless you rely heavily on mobile traffic, or your website in general, for sales. You can find this out by referencing your website analytics!