Getting the most out of your copywriting process
During our recent visit to the B2B Marketing Expo in London, I was fortunate enough to attend a fantastic keynote speech by Jack Dyson. Jack spoke about the difficulties of creating a complex content strategy as well as ideas for how the world of journalism and print media can help to craft a robust copywriting process.
This might sound a bit confusing. Let me walk you through how I believe some of Jack's ideas can help all of us to improve the way we use content in our marketing.
Simple truths
I'll start out with some simple truths, as Jack did in his keynote. You have a matter of seconds to compel your customers to engage with your company or brand. Once they've engaged, you have to carefully guide them to buying your product or service. To do this, your marketing has to achieve a few key things.
Your content needs to create an environment that promotes conversation with your narrative. This means that you should be creating content that promotes conversation with your brand and between consumers. This conversation should be constructive, though, and benefit the narrative you're trying to create. Here's an example:
Mary has created a new kind of toilet paper that is created from 100% recycled paper. She creates, alongside her marketing agency, some videos that speak about the importance of recycling. The videos discuss the current predicament that we're in as a civilisation and how important it is for everyone to do their part. Finally, the video explains that her company is doing their part with this toilet paper and poses the question 'How can you help?'.
In this example, Mary is promoting conversation from potential customers, which is great! Not only that, she's also guiding the narrative by posing a question and explaining the importance of recycling. All of this means that Mary's potential customers will be engaged and associating her brand with the topics she decides on.
Jack also explained the need for businesses to identify the problem that their consumers have, and how their product or service can solve this problem. By targeting this problem and presenting a clear and concise solution, consumers will start to gravitate towards your business.
There's a catch, though. Don't target the same problems that all of your competitors have targeted. Modern audiences want you to be unique and have your own voice. Don't chase your competitors because that's what the industry traditionally does. Be bold, be unique, and be current in all of your content.
Models and tools to improve your content creation process
Is your current copywriting process a bit undisciplined? Having a structure to base the process around makes it easier to come up with ideas, write a great article, and ensure that everything is thoroughly checked by relevant members of your team.
Jack spoke about some ideas that could be transferred over from the world of print media and publication. A lot of these ideas revolved around the models, processes, and tools that they use to take a piece of copy from an initial suggestion to a completed article.
If you're producing regular content, especially content that can be used in a wide variety of ways, you should consider implementing an editorial process. An editorial process is a series of steps that starts with idea development, moves onto writing, and ends in an editing, fact-checking, and proofreading stage.
Each part of an editorial process has an individual that owns or 'governs' that step. This provides accountability and allows each person to become a specialist in that part of the process.
Here's an example of a simple editorial process: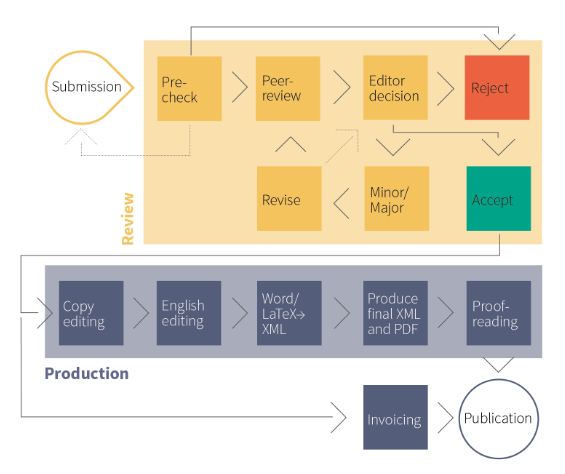 This example doesn't have an initial idea generation process, but it's a good example of a simple and useful framework to follow. It begins with submission of a draft piece of content. This could be a video, an article, or even a social media post. As long as it's content, it can go through this process.
It then follows a series of checks, reviews, and revisions. This includes fact-checking, proof-reading, and sometimes even major changes/rewrites. The key here is the pre-check will be done by one person, and then the content will be handed over to someone else for a peer review, and so on. By having each step of the process completed by different people, you can ensure that almost all of the mistakes or inaccuracies are removed.
Once it's approved, the content moves onto a final editing phase. This includes a final proof-read and production of any different formats, such as a PDF version of an article. Finally, the content is published.
This may seem like a lot of work but this process can be completed quickly, if everyone knows their job well. We have a similar process in place at redPepper and it helps to keep our content error-free and up to the quality standards that we expect.
Are you concerned about how this process might fit into your current content marketing strategy? We're here to help. Feel free to call one of our content experts today and we can talk you through how to implement and utilise a process like this. We can even help you fill in any gaps you might have, such as proof-reading, or editing!
Implementation and on-going support
I've spoken a lot about different ideas, processes, and practices to implement, but not much about how to implement them. This can be a tricky subject for a lot of decision-makers, as rolling out a totally new way of working could upset employees, especially those who have a long tenure at your company!
The best way to tackle this is to sit down with your team and talk to them. Explain that you've had some ideas for improving certain aspects of the content creation process, and discuss those ideas with them. Allow them to be part of the process and to feed in their own ideas.
Most importantly, tailor a process or idea to fit your team. Everyone is different. Your team is made up of individuals, all of whom work in different ways and prefer different things. It's really important that you find a solution that works for your team and you constantly adapt this as things change. Be fluid in your approach to content.
Do you have any questions about improving your copywriting process? Confused about how it fits into your current content strategy? Give us a call and speak to one of our content experts today. We can help you work through and adapt your content strategy, create an entirely new strategy, or even just fill in some gaps in your content-creation process!
To find out more about our visit to the B2B Marketing Expo, have a read of our recent blog post. Or, stay tuned on Twitter, Facebook and LinkedIn where we'll be sharing further thoughts about our time at the expo and the industry seminars we attended.