Digital assets you need for your B2C business post-lockdown
Covid-19 has affected us all in many ways, both personally and professionally. Regretfully, if you're an owner of a business to customer (B2C) business, you may have been impacted more than most.
Social distancing and new safety regulations mean that customer-facing businesses have had to make numerous adaptations to keep staff and customers safe. Retail, hospitality, healthcare, and education are just some of the industries being affected by this change daily.
Rigorous cleaning processes and physical distancing is crucial to preventing the spread of the virus. However, many digital assets can help assist with the running of your business too. We've put together a list of digital assets which when implemented can help your B2C business run smoothly in a post-lockdown world.
As well as this, having these practices in place will better prepare your customer-facing business for the potential occurrence of a second lockdown.
If you need support with your digital marketing strategy, our Colchester-based marketing team are here to help. We offer website design, pay-per-click advertising, social media marketing and many other services to help your B2C business thrive in these difficult circumstances. Get in touch with us today on info@redpeppermarketing.com to find out more.
QR codes
If you've visited a restaurant, pub or bar post-lockdown, you'll likely have seen uses of QR codes. A QR code is a type of barcode which contains information, scanning this through your smartphone will reveal the information, usually in the form of a webpage.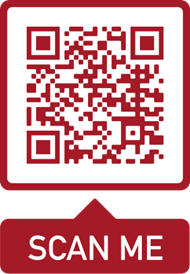 How are QR codes useful in the pandemic?
The best part about QR codes is that they're easily accessible to most people, all you need is a smartphone. Open your camera, hold it over the code and your phone will load up the webpage associated. As QR codes enable your customer to use their phone, they reduce touchpoints in your premises and therefore the risk of contamination.
Here are just a few ways that a QR code could be handy for your B2C business:
Upon launch of the much-anticipated Government Test and Trace app, QR codes became a crucial way of tracking and tracing Covid cases. Customers with the app are now able to scan in when visiting your premises to help trace those they have been close to in the event of testing positive for the virus. Click here to visit the Government's website and create your QR code poster.
A QR code could be used to replace physical documents in your establishment. For example, a food menu. Have customer scan the QR code to read your menu on their phone! This reduces touchpoints further.  
Although QR codes are highly useful at this time, keep in mind your demographic and always have a backup option. A QR code won't always be appropriate:
John owns an independent café "Tea for 2" which provides delicious afternoon tea for customers visiting the local high street. During the lockdown, John was forced to close his café but is now opening up with many new procedures in place. He's keen to have a track and trace system present and has printed off a QR poster from the Government website to display in his store.

John's café is particularly popular with the elderly population of his town and he soon realises that many of his customers aren't able to download the app. To offer an alternative, he also asks one of his waitresses to stand by the front door and collect data from customers who cannot use the app. This is much easier for his elderly customers and ensures that John has an effective track and trace system in place for his business.
Refresh your website content
Chances are if you're operating a B2B business, you've had to make significant changes to the way you're running things. Whether that's a new one-way system, stricter measures on pre-booking appointments or rigorous cleaning measures. With these new changes in place, it's a good idea to go through your existing website content and make sure it's still relevant.
Let's say you run an independent dentist practice. On your website, you've got many photos of yourself and the team treating patients with minimal PPE. Previously, you were only required to wear a surgical mask and gloves, however, now you must wear much more. It's worth being conscious of this and noting that these photos were pre-COVID, or taking some new photos to better represent the way you're currently running your business.
Alternatively, let's imagine that you own a barbershop and often use your website to attract new customers. At the moment, your homepage reads "Drop-in 9-5 weekdays and 10-6 weekends for an appointment, no requirement to book ahead." Since the easing of lockdown, to control demand and ensure for adequate cleaning time between appointments, you're running a strictly no drop-ins basis. It's important that your website is aligned with these new rules, you could even add an online booking form to ensure you give customers the alternative option they need!
A Covid-19 update page
As well as ensuring your existing content is up to date with the way you're currently operating, it's worth producing some new content too. This is most effective in the form of a "Covid-19 update" page to let customers know what they can expect when they enter your business.
Here's a great example from the popular Italian restaurant Prezzo. They've structured their COVID page in a series of frequently asked questions. The answers give a detailed response to how they're keeping customers and staff safe during this time, and what to expect when visiting.
Link to your Covid-19 page on your homepage so that it's easy to find. Here's an example we've installed for one of our B2C clients. Adding this blue banner to the top of their website instantly demonstrates that they're open and operating. When customers click through on the banner, they're able to learn more about their safety measures.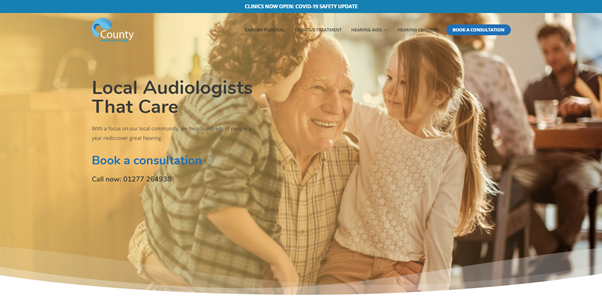 Engage your customers with a video
Whilst written text, or FAQs work well to update customers on your changes, you could also use a video. This might be in the form of a walkthrough, presentation or animation video.
Social media updates
Throughout lockdown, you may have let your social media presence slip. It's time to get back to it! Whatever platforms you use, keeping your social media profiles up to date with how you're currently operating is key.
While some customers will navigate to your website, others will check on social media to see if you're open. If you've not tweeted since March, there's a good chance they'll presume you're closed!
Social media is another great place to feature your Covid-19 update video. Don't miss out on business, keep your profiles up to date!
Digital newsletters
Communicating with your customers throughout this period is key, as changes to both your operations and the government guidelines are likely to continue. If you traditionally send your customers physical newsletters or literature, take this digital. A monthly email newsletter could be the perfect gentle reminder that your customers need about your business.
Take this opportunity to share your Covid-19 safety measures as well to reassure your customers of their safety when entering your premises.
Setting up an effective email marketing strategy will also be particularly useful in the event of another lockdown. For more advice on email marketing, check out our beginner's guide.
An online shop
If you operate in retail, chances are you could hugely benefit from an online shop. Setting this up isn't easy, or a quick fix, but could be an effective long-term strategy for your business. Despite shops being open, footfall isn't up to pre-lockdown figures, and many customers are opting for online ordering. The absence of this could be a key difference between you and your competitors.
If you'd like some help and advice on expanding your website to include an online shop, we're here to assist. Get in touch with us today on info@redpeppermarketing.com or call 01787 223850.