Exit Foundation
Exit Foundation is a charitable organisation dedicated to helping young people exit a life of crime and gang-related activity. The organisation predominantly does this through its excellent mentoring programme, workshops, and presentations. After recently rebranding, Exit Foundation approached us to request a website build.
Although this was primarily a website design and development task, our work for Exit Foundation also spanned across many of our other services including strategic direction, copywriting, and branding. We will discuss how we drew upon our varying services and skills throughout this case study.
At redPepper Marketing, we are proud to dedicate a large number of hours to charitable work each year and offer our not-for-profit clients a reduced rate. Doing this, allows us to give back to fantastic organisations like Exit Foundation, providing them with excellent marketing so that they can continue helping others.
If you're a charitable organisation and would like to find out more about our reduced rate and marketing services, feel free to get in touch with us today.
The Challenge:
When Exit Foundation approached us, they had some existing website content and a logo. As a result, we were challenged with developing their brand and producing a website within the constraints of these existing assets. This gave us several challenges to tackle at the start of the project:
Establishing a brand identity that is suitable and adaptable going forward, using the existing logo
Editing and reworking the existing copy to establish a clearer tone of voice and better guidance for website visitors
Restructuring the website and creating a tighter menu structure which gives visitors more direction towards the call-to-actions
Building a website within a streamlined budget and a reduced number of hours
Before any work began on the website itself, our strategic team worked with the client to establish their target demographic and purpose. We identified two focal motivations for the website:
To achieve donations for the charity
To find new mentors to help individuals in need
The Solution:
We began overcoming these challenges by looking at their current website content with a strategic and critical eye. As we were beginning with some existing content, our first challenge was to decide upon the elements that we would adapt to improve the overall user experience.
We noticed that the menu structure was overcrowded and complicated so began to simplify this. We did this by combining the copy on shorter pages and adding a drop-down menu for their key services. We also took this time to position their leading call to action, "Donate" into the menu structure itself.


Our next challenge was to edit and rewrite areas of the copy with our new menu structure in mind. The copy in place was lengthy and lacking in call-to-actions. The tone of voice and sentence structure was also muddled and the content was vague.
With a fine-tooth comb, we edited and reworked much of the copy to establish a trustworthy tone of voice and created content that wasn't overly complicated or drawn-out. We strategically placed their two, central call to actions throughout the pages, "Donate" and "Become a mentor", to ensure that visitors were driven to the correct location.
After finishing the copy, the next step was to begin building the website. It was during this stage where much of our branding work continued to evolve. We had already established a consistent tone of voice, now it was time to solidify their visual branding.
We developed a colour palette to complement the existing red, blue, and yellow logo. We identified a bright orange hue which would effectively complement the existing colours whilst also providing a great contrast for areas we wanted to draw attention to.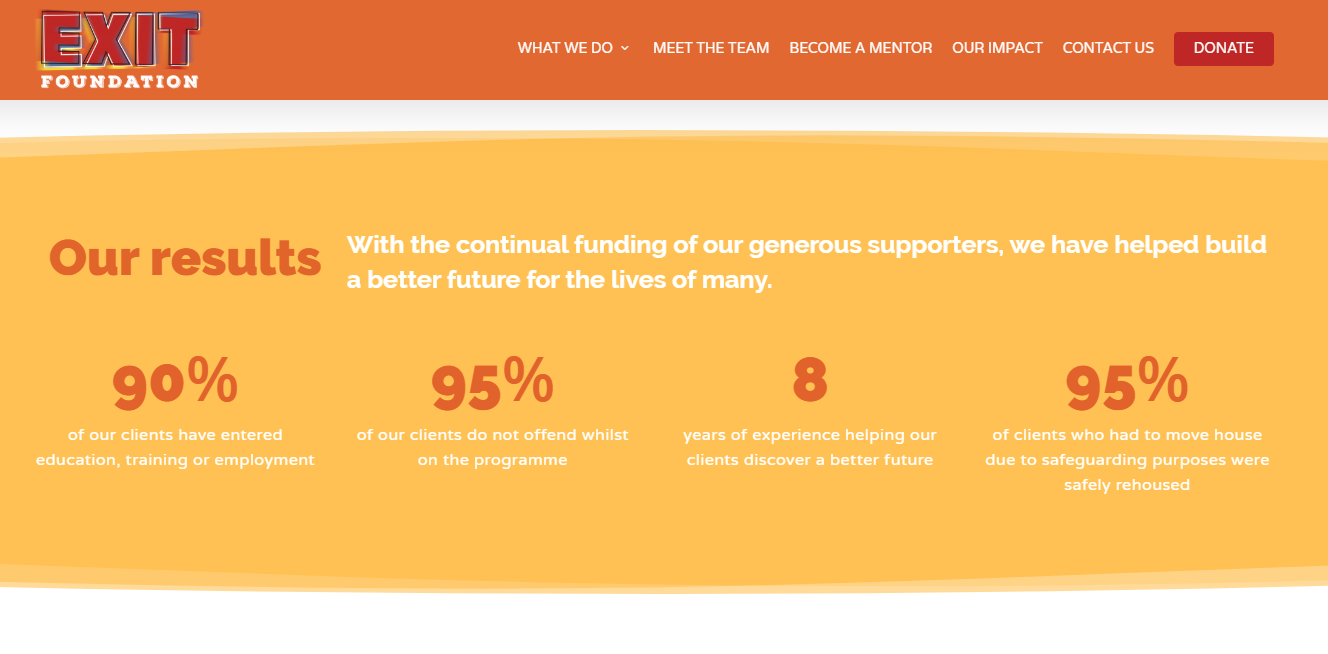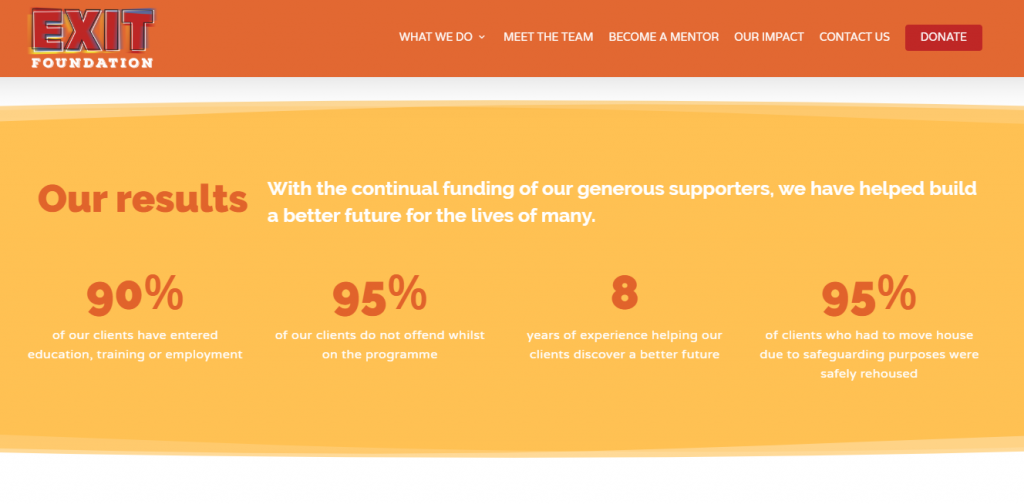 When building the pages, we ensured that we used a good number of images and videos throughout. Although the copy we had written demonstrated the work that Exit Foundation do, they had loads of brilliant videos to showcase just how transformative their work has been.
One place that we used a video was at the top of the homepage. It is estimated that using a video on your landing page can boost your conversion rate by up to 80% and that 72% of customers prefer to learn about a product or service through video. [1] Adding this visual representation of the work that Exit Foundation do and the reason donations and mentors are needed was significant in driving visitors towards their desired goals.
As with all of our charitable work, this project was a rewarding task. By building on the logo and copy that they already had, we were able to design a website which informs visitors of their fantastic work and directs them to the desired call to actions. We've also established a robust but adaptable brand identity that Exit Foundation can effectively utilise going forward.
To request further information about our work, or find out more about what we can do to help your business, book a meeting today.
---