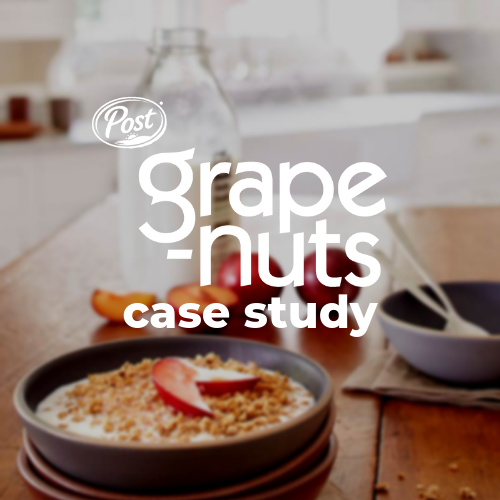 Grape Nuts

Grape-Nuts is a popular breakfast cereal, sold in many of the country's largest supermarkets. Originally from the United States, Grape-Nuts came to us several years ago when they were attempting to bring their product to the UK market.
This began with work on social media. Our initial aim was to focus on brand awareness and introducing the idea of Grape-Nuts to UK consumers. We had to carefully position the brand and ensure that we were targeting the key demographics that were important to Grape-Nuts. We continued this social media work and moved into other areas, which you can read about below.
Social Media Management
We managed several of Grape-Nuts' social media channels for over 2 years. We focused our time on Facebook and Twitter, with an emphasis on individual consumer communications and sharing of relatable and useful content.
Day-to-day, we managed the community that follows their social channels. This involves replying to private messages and comments, following popular trends, and engaging in conversation with consumers. We also produced regularly-scheduled content. This content was scheduled on a month-to-month basis and mentioned key dates, topics, and current campaigns.
During our time working for Grape-Nuts, we also collaborated with their in-house marketing team on a variety of social media projects. We provided strategic and content advice for their Instagram channel, which was started to take advantage of an increased emphasis on social media advertising.
An emphasis was also placed on working together to create interesting and engaging campaigns. Often, this took the form of competitions or offers that are designed to increase brand awareness and encourage participants to find Grape-Nuts on the supermarket shelf. An example of a campaign we worked with Grape-Nuts on is below: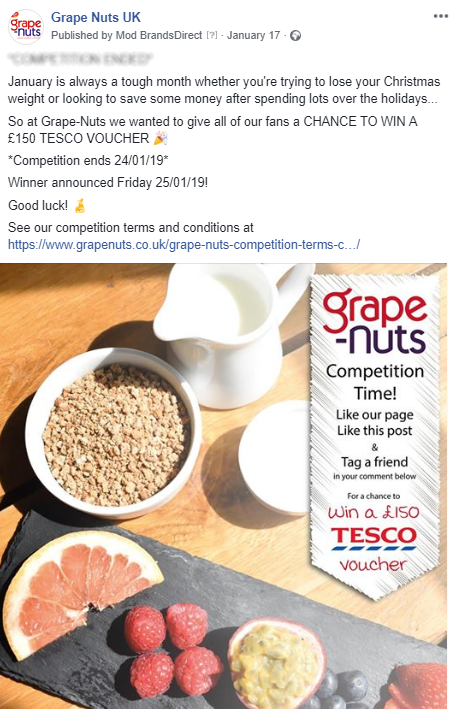 Website Design
In 2018, we designed and built a new, UK-focused website for Grape-Nuts. Prior to this, they utilised the website assets that were already in place from the United States side of the brand. Obviously, this had some drawbacks. The site and brand are reliant on providing fun recipes, up-to-date nutritional information, and guidance on living and eating well. By using assets that were created and targeted to United States-based consumers, they were at risk of confusing and alienating UK customers.
The goal was to create a new website that featured information and resources useful to UK consumers. We decided to design and create a simple, easy-to-use website that allowed users to find recipes, locate stores where they could buy grape-nuts, and speak a bit about how the brand was created.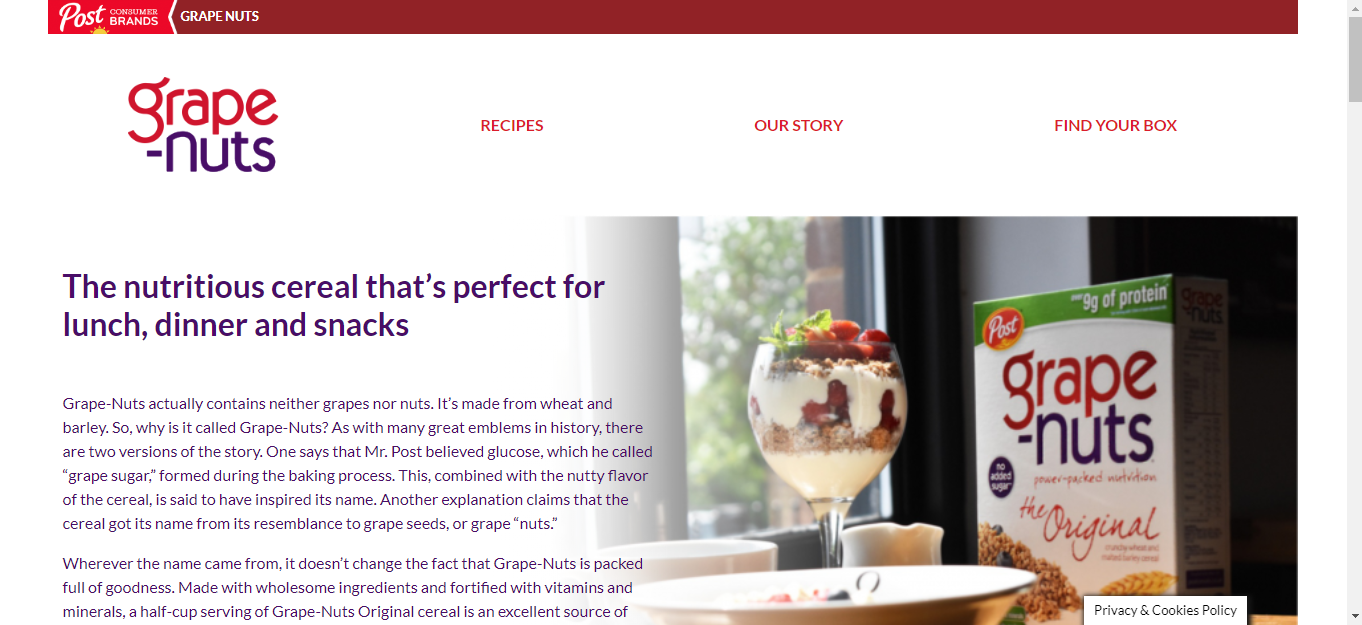 Strategy
We've provided strategic direction to Grape-Nuts over several areas for the past 2 years. Initially, we ran a co-operative workshop with them to define who their characters, or customers, were, and how they could target them. Defining this enabled us to start working on marketing assets and activities that would resonate directly with these key customers.
Following this, we helped them define a social media strategy that would facilitate consistent growth and constant communication with their customers. This included an introduction to paid advertising, more effective competitions and other channels to consider.
This strategic approach eventually fed into the creation of their new website. This was a necessity if they ever wanted full control over the UK-side of the brand. It was becoming increasingly important to provide an area that was tailored to the UK. Customers hate feeling like an afterthought or a less sought-after audience.
Overall, Grape-Nuts digital presence and strategic approach has changed drastically since we began working with them. Constant innovation, fresh ideas, and a willingness to listen and learn have enabled Grape-Nuts to continue their growth within the UK market.