Highlights of my June newsfeed
Did you know that an estimate of around 6,000 tweets are made every single second? That's a staggering 500 million tweets per day! Amongst the memes, "what I made for dinner" updates and Tik Tok dances, many of these are thought-provoking and genuinely engaging posts that deserve some attention. This month, we've cut through the noise and put together a list of some of our favourite finds in our newsfeeds.
As digital marketers, we must stay up to date with the latest in all things social media, whether these are new features and channels or trending topics and campaigns. Keeping in the loop means we can recommend and offer the best practices for our clients. If you'd like some advice on how we can improve your activity on social media or perhaps, need help getting started, feel free to get in contact. Give us a call on 01787 223850 or email us at info@redpeppermarketing.com today.
Black Lives Matter
It'd be impossible to do a roundup of our top social media picks this month without mentioning the incredibly powerful Black Lives Matter movement. As a team, we were deeply saddened by the death of George Floyd, and the many other stories, all too similar, that have been amplified since. The reaction across the world has been extremely impactful with many taking a stand through protests, many speaking up within their circle of family and friends, and many demonstrating solidarity on social media.
On Tuesday 2nd June, a social media-wide blackout occurred, better known as "Blackout Tuesday". Originally organised by the music industry, posting a black square on social media channels became a powerful act of solidarity against racism and police brutality. It encouraged influencers and brands alike to pause their regular content in favour of sharing genuinely useful educational resources for followers.
The movement quickly spread around the world and amounted in tens of millions of participating. It continued offline too, with many businesses demonstrating their solidarity. Two examples include Apple Music and Spotify, the former adding a radio streaming station in celebration of black music. Spotify, on the other hand, added an 8-minute, 46-second track of silence to playlists as an acknowledgement of the length of time that George Floyd was suffocated.
As well as Blackout Tuesday, our social media feeds have been flooded with inspiring, useful and educational resources about the racial oppression that manifested in our history and continues to exist today. We shared some useful resources on our social media channels at the start of the month and will repost a few of those below.
Black Lives Matter: How you can help & useful resources:
This website is a great starting point if you'd like to find out more about how you can stand in solidarity with the movement. It is a regularly updated list of ways to help including petitions to sign, places to donate, things to read, watch and more!
We found this speech by anti-racism activist Jane Elliot particularly poignant; another watch we'd strongly recommend.
If you'd prefer to watch a series or film, we'd recommend these, all available on Netflix.
Although the work to eradicate racial inequality is far from over, the recent month has demonstrated great progress for many, and social media has a large and important role to play in this.
Yorkshire Tea
There's nothing better than discovering a brand that just does social media right. Yorkshire Tea is one of these. From consumer content to recipes, we'd strongly recommend following them, even if you're team coffee! This month, we stumbled across two brilliant posts that we'd love to share.
National Biscuit Day:
In celebration of National Biscuit Day, Yorkshire Tea shared six hilarious biscuit-spoofed-films with their followers. This is a great example of how your brand can shape a national awareness day into genuinely engaging content. The Hobnobbit was our personal favourite!
If you'd like to try something like this for your business, we'd recommend starting with an awareness day calendar. Here are just a few examples that could come in handy:
Carbon-Neutral
The second post we've loved this month from Yorkshire Tea is their carbon-neutral campaign. The company have now ensured that using one of their teabags will guarantee a carbon-neutral brew. The advertising campaign shows their artist redesigning the famous packaging to reflect their greener choices. It is hilariously self-aware and captivating and gets a like and share from us!
Burger King
From experience, if your brand can adapt well to fast-changing situations, your campaign is far more likely to be successful. Burger King in Italy demonstrated this through their "Social Distancing Whopper". It was a genius way of adapting to the world around them. The promotional poster for the triple onion burger plays on the fact that once eaten, social distancing will be far easier as it promises to "keep people away from you"!
While the Covid-19 pandemic has been a time of much anxiety and concern for many, it is refreshing to see such a creative and humorous campaign.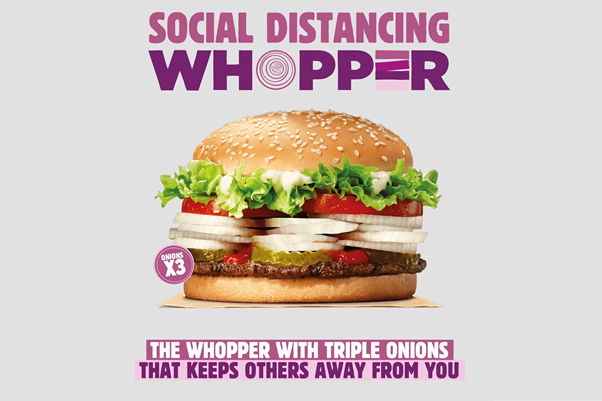 Their pungent burger isn't the only genius marketing that Burger King have introduced during this time. We also noticed the following post on social media, from one of its German restaurants who are now offering huge cardboard crowns! While they are just a bit of fun, the crowns remind customers to keep their distance from one another while placing some positivity on what is now a more difficult "normal" for all.
We hope you enjoyed hearing about just a few of our favourite and most impactful finds on social media this month. For more industry insights, news and marketing advice, make sure you're following us on social media. You can find the links below: