5 marketing ideas for your business post-lockdown
We're not out of lockdown yet and we hope that you're all continuing to stay safe, healthy, and mindful of government guidance. However, as we progress through the lockdown and start seeing some more lenient rules emerge, we've started considering how businesses can get a head start at their marketing once the lockdown is fully lifted.
After some brainstorming, we've come up with 5 marketing ideas that you can try once lockdown is lifted or eased. We decided on these 5 as they were the best for giving your business a running start once customers start buying again!
Need some help preparing your business' marketing for the lift of lockdown? Get in touch with one of our marketing experts today and we'll help you get everything ready and raring to go for your returning customers! Give us a call on 01787 223850 or email us at info@redpeppermarketing.com and start your marketing journey today.
1. Prepare some punchy promotions
One of the most important things to consider when business is kickstarting again is how you're going to promote to your customers.
There are a few key things to remember here:
Many of your customers are going to be a bit strapped for cash. Combine a massive amount of people being on furlough, many businesses shutting down, and a wave of unemployment, and you have a lot of people with reduced disposable income. You need to be aware of this.
Customers will be keen to get out and about and support local businesses. Don't take advantage of this by raising prices. You will only alienate your customers and give your business a bad reputation.
If we consider these 2 things when designing promotions for customers, we can entice them to become loyal, recurring patrons. You're probably wondering, though, what are some good examples of these promotions and how can you come up with your own?
It's difficult to answer this question, as it will depend on your specific business, industry, and customers. We can provide some guidelines and initial concepts to get the ideas flowing, though.
Firstly, consider a promotion targeted at new customers. As we said above, people are going to be keen to get out, try new things, and support local businesses. Consider a discount for new customers or even just a post-lockdown discount for every customer's first purchase. This will get people through the door so you can show them how amazing your business is!
You can also consider a promotion for some of your products or services that might appeal to people coming out of lockdown. For example, if you're running a restaurant, offer a discount to couples booking their first meal with you. You could even create a 'date night' every week where this promotion could apply! Couples are going to be desperate to see each other and spend time together, and you could help them do this.
The key thing to remember is: think about what your customers are going to want post-lockdown. Consider their financial situation and how you can help. Think about how you can turn customers into loyal patrons by supporting them and providing great promotions.
2. Communicate changes to your customers
Your business will have a plan for returning to normal, but you'll likely have some extra measures in place to ensure proper hygiene and social distancing.
It's important that you communicate all of this to your customers. Put together a concise, simple document that details when you're re-opening, what measures you'll have in place to ensure customer and staff safety, and anything that will be different from the norm your customers may have come to expect pre-lockdown.
You can share this information in a variety of ways. We recommend sharing it across all of your social media channels, having a notice up in your storefront, and, if appropriate for your business, mailing physical copies to your customers.
Consider sharing this information through more than just writing too. Put together a short video where the face of your business talks customers through the changes or create a series of short Facebook/Instagram stories. Try something different that will encourage your customers to take in the information.
3. Bring something new to the table
A lot of businesses are going to be re-opening at around the same time. The marketplace will be very busy, with customers being pulled in different directions. You need to stand out and the best way to do this is by trying something new and innovative.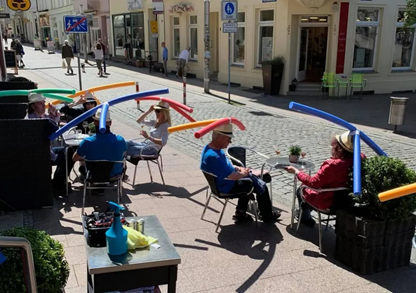 A great example of this is the German restaurant asking customers to wear 'noodle hats'. Originally thought up as a way of enforcing social distancing rules, it's gained notoriety around the country and the world.
Whilst you probably won't be able to make as big a wave with your ideas, the idea behind this is what you need to be aiming for. Try and think of ways that you can make your business stand out. Offer services that you wouldn't normally offer, go above and beyond what you would normally do and make your post-lockdown experience unique!
4. Consider using new channels
If you've been thinking about getting on TikTok, Snapchat, or another channel over the past few months, there's never been a better time to do it! Once the lockdown is eased and eventually lifted, consumers are going to be motivated to get out and support local businesses.
By having a bigger presence online, you'll only increase your chances of capturing some of this business. There is going to be a lot of marketing noise around this time so the more places you can be seen and heard, the better!
If you're going to have a go at entering a new channel, make sure it's consistent with your brand. You want people to be able to recognise you whether they're on Facebook, Instagram, or any other channel.
This doesn't just have to be digital, though. Depending on your customers, expanding into the world of traditional marketing could give your business a big boost after lockdown. Newspapers, radio, or even TV, if your budget allows, would all work well.
The main thing is to consider what channels your customers use, what budget you're working with, and how you can make yourself stand out. A new channel, alongside some of the other points we've raised in this blog, could give you a running start when you re-open!
5. Ask for your customer's opinion
Finally, speak to your customers. We've recommended this to many of our clients and they've had loads of amazing ideas and great feedback. This has been invaluable to many of them and made sure that they're re-opening with the right processes and systems in place to make their customers feel safe and welcome.
You might have an idea of how you want to re-open, but it's easy to forget that you're not one of your customers. They will have a unique insight into how your business is seen from the other side of the table, so it's imperative that you get their thoughts.
You can do this in several different ways:
Use social media. Design polls, ask for feedback into your DMs, or even just use the comments.
Give customers the ability to give feedback directly via Zoom or phone.
Design a survey through a website like SurveyMonkey to gather feedback from a large group of people.
Create a new email address specifically designed for Covid-19 re-opening ideas and feedback and share it with your customers.
We've seen success with all of these approaches and we'd recommend that you try at least 1 of them. Re-opening with a process in place that, even inadvertently, makes your customers uncomfortable could mean the difference between success and failure!