Staying social while distancing
It's hard to believe that less than 4-months ago the phrase "social distancing" had very little meaning. It goes without saying that today, we're well accustomed to it. In the UK, the lockdown has been enforced for over 3 weeks now and although we're physically distanced, in many ways we're more connected than ever.
As enthusiasts of all things digital, we're always in awe of the positive impact that social media and the online world can have. During COVID-19, this has been no different. Keep reading to hear about some of our favourite ways that social media and the online world have brought communities together during these uncertain times.
Read all about it
Reliable news sources and government updates are the best way to keep up to date on emerging information about the virus and its impact. However, social media can have a big part to play in this too. Sometimes, watching an hour-long news update can feel overwhelming and too impactful on your mental health. An alternative might be catching a quick article on Facebook or a Tweet from a reliable source. These smaller snippets of news can feel more manageable and digestible.
If you're looking for a bite-sized update, written in a simple, easy to understand manner, you might like the @easypoliticsUK Twitter page. They've been breaking down the latest Coronavirus-related news in daily updates such as the one below.
Just remember, there's lots of fake news out there so pick your sources wisely and if you're unsure, consult the NHS, WHO or Government websites. Stay tuned for a full blog post on this topic soon!
Positivity is key
As well as keeping us up to date with the hard-hitting news, social media has been a fantastic source for spreading positivity during such challenging times. From hilarious videos to "tag a friend" challenges and Tik Tok dances to emoji quizzes, we think social media feels more social than ever.
We're a big fan of how many influential accounts have been offering free, additional content during this time. As a business or influencer, it's important to adapt quickly in these changing times to offer content that continues to be relevant for your followers.
There are many great examples of how social media can spread positivity in the world of health and fitness. While physical exercise is important to keep your body feeling great, it can also have a highly beneficial impact on your mind. Our favourite example is Joe Wicks' daily P.E. lessons, which drew in over 15 million views in the first week alone. Similarly, many other gym brands and influencers in the world of fitness have been posting at-home workouts to keep the country moving within the four walls of their homes.
Here's an example of a cardio workout that you can follow at home. Offering this workout free-of-charge boosts engagement for Gymshark while providing followers with shareable and relatable content.
There's often room to offer online content on social media for many industries. Here's another example from The National Theatre who have offered free screenings of various productions for theatre enthusiasts. This simple move has provided a form of escapism for many and, again, demonstrates a smart way of moving to utilise the digital space at this time.
Like what you see? Think about how your business might offer digital content for your customers. Are you able to adopt similar techniques to continue business during this time? If you'd like some guidance on this, feel free to get in touch and book a (virtual) meeting with us today.
Celebrate our health heroes
The well-deserved support for our key workers and NHS staff has been outstanding on social media. One standout movement was the #clapforourcarers hashtag and online campaign. Through the liking, sharing, and retweeting of the below image, thousands of residents across the UK gathered outside their homes to applaud their health heroes. Continuing week on week, this movement truly demonstrates the positive capacities of social media communities.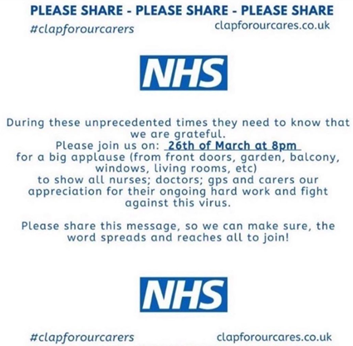 Staying connected
If there's one thing lockdown has taught us, it's the importance of staying connected with loved ones. Virtual pub quizzes, online board games, live dance classes, video call karaoke, or a simple phone call. Social media, apps and the internet mean there truly are countless ways to keep in touch with friends and family.
At redPepper, we've been working from home for over a month now and have certainly utilised these tools ourselves. As well as discussing workloads with clients, we'll ensure we get in a few team video calls a week. This is a great chance to catch up with the team socially and also to discuss and organise tasks to complete.
Being physically separated from our friends and family doesn't mean we can't stay connected. Do have a friend who you haven't caught up with recently or a family member you'd like to check in on? Here are some of the best apps and websites we'd recommend to do so:
• Zoom: Video Conferencing – A free app for video calling in larger groups, we've tested a few and this is our firm favourite!
• Netflix Party – A Google Chrome extension used to watch a Netflix film or show at the same time as friends.
• Playingcards.io – A virtual tabletop featuring many of the most loved multiplayer card games.
• Multiplayer Video Games: A great form of escapism while keeping in touch with friends.
• Online Board Games: Ticket to Ride is a favourite for us, but a quick Google search will bring up plenty of board games you can play with friends and family online.
While the lockdown measures push families, friends and colleagues apart physically, there's comfort in knowing that social media can bring closer together. Although its downsides are often clear, its positives have been a blessing in a time of uncertainty for everyone. As we continue to operate remotely here at redPepper, we hope that everyone is staying safe and remind you to stay at home and support our NHS staff.
*All information and guidance in this blog post is in line with government guidelines at the time of writing. For more information on the latest restrictions due to COVID-19 please visit the UK government website here.