The best social campaigns of 2020 (so far)
If there's one thing we love at redPepper, it's an exceptional social media campaign. When you work with social media as much as we do, it becomes second nature to subconsciously review every ad campaign that you see. For us, every ad we see is an opportunity to learn, consider new approaches, and improve ourselves as marketers.
This year, we couldn't resist making a list of some of our favourites! We hope that these examples help inspire you to think of new and exciting ways to advertise your brand.
A disclaimer too, we're writing this before Christmas so we're going to be missing any festive campaigns in this blog. Although we've got a Christmas-special coming soon, so stay tuned to hear our thoughts on this year's best and worst Christmas ads!
Want to start creating award-winning social media campaigns yourself? We can help. Get in touch with our team today and make that award on your mantelpiece a reality!
1. Netflix's Spoiler Billboards
Before we dive into this one, we know that technically this was a traditional ad campaign featuring loads of billboards dotted around cities all over the world. Hear us out, though! The campaign ended up being so popular that it became a social media sensation overnight. Pictures of the billboards were shared thousands of times.
The social media exposure for Netflix was enormous, not that they needed any more exposure than they've already had during the pandemic. A team of students from the Miami Ad School came up with the campaign, with Netflix's blessing.
The idea behind the campaign was to encourage people to stay at home by posting spoilers for popular shows on billboards. Genius!
2. NatWest's Banking at Home
At the start of lockdown, a lot of people were worried about their finances. For many older people, they were also concerned about their banking and when they would be able to pay bills, make transfers, and get into a branch again.
NatWest decided to promote its mobile banking app. The campaign was designed to alleviate these fears and make everyone aware that they can bank just as well from the safety of their home!
The video they put out on social media, as well as traditional channels, was a heart-warming collection of clips taken from their staff. The more amateur-style of the clips just added to the campaign's charm and proved to be a huge success for NatWest.
3. McDonald's Return of the Mac
The McDonald's reopening campaign in July swept the nation. With the anticipation that they would be opening several weeks before that, people were eager and prepared for the news. This led to images of mile-long queues for drive-throughs all around the country as people went outside, clambered in their cars, and headed for their local Maccies!
You can't really argue with the response this campaign generated. It garnered praise on social media and in traditional media alike. What's more, it ensured that McDonald's reopened to insanely high profits!
4. Zoom's Virtual Background Competition
During lockdown, there were loads of examples of companies growing and prospering, but none more so than Zoom. They grew enormously almost overnight and capitalised on this new-found popularity by launching an awesome competition on social media.
Virtual backgrounds had become something of an inside joke for many users, so Zoom decided to host a competition to find the person with the best virtual background. They garnered a huge amount of engagement and entries to the competition, further solidifying their lockdown dominance!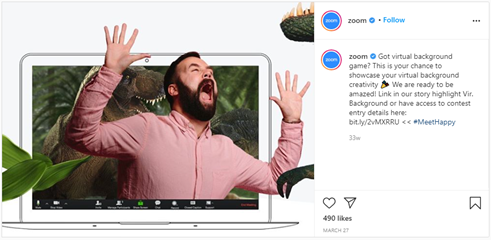 5. Gillette's The Best Men Can Be
We're going back in time for this one because it's still making waves today, even though it was launched back in 2019. When a social media campaign has caused as many conversations, praise, and even anger as this one, you have to respect it.
Even in 2020, people are still talking about Gillette's The Best Men Can Be campaign. It was headlined by a 2-minute, provocative video about toxic masculinity and the challenging of gender norms. To this day, it has achieved over 35 million views on YouTube, and countless more engagement throughout other social media channels.
We wanted to highlight this because this conversation is still ongoing today. This is the best example of a company tackling this issue with a thoughtful and brave message.