TV and digital TV advertising is a new specialty for the team at redPepper. In consumer marketing TV has always been the pinnacle of brand awareness, but cost has been prohibitive. Now that's changed and our team is here to propel you into this exciting world.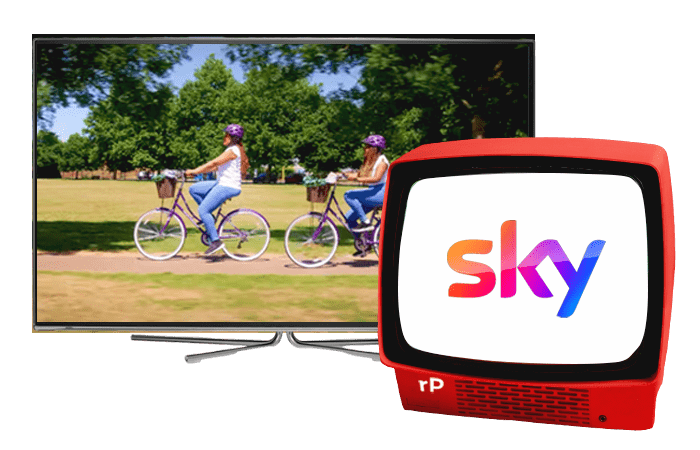 TAKING YOUR BRAND TO NEW AUDIENCES
Bursting onto the scene with TV ads! If you're looking to get your brand out there, digital TV advertising is a great option. From Sky and Amazon to Netflix- all offering potential for businesses big or small to reach wider audiences at lower costs. With highly targeted content by postcode, demographics & lifestyle – boosting visibility has never been easier or more cost effective than before whilst increasing consideration and sales too; making this media an appealing prospect indeed!
At our core is an amazing team of creative, agile and passionate people ready to craft digital tv ads that get results. We design video content tailored specifically for your goals in mind – from planning through production all the way to placement! Our enthusiasm translates into great product: a little bit of fun with loads of confidence!
TV commercials and campaigns can take a lot of resources to create and execute, especially when you factor in the talent, scripting, shooting, and editing. That's why we have developed our in-house team to manage the creation process all the way from conceptualisation, through to the final delivery to TV networks. We don't believe anyone should miss out on the opportunity to create high-quality, high-performing commercials.
Media planning is the process of determining how, when, and to what audience to deliver your advertising message. Sky ÅdSmart audience targeting includes demographics/household composition, decision-makers, FMCG and category purchase, financial, home, vehicle ownership and interests. Geo-location targeting covers area, postcode or catchment areas.
Crafting the emotional identity of your brand with music and sound is as crucial as outstanding videography. We work in partnership with Born Music, a London based Music and Sound Design company, who deliver high quality solutions to a diverse global client base for brands like Nestle, Volkswagen, BBC and Nespresso.
TV is typically over twice as effective as the next best-performing medium, that's why over 70% of businesses that use AdSmart come back.  According to Sky Media, TV is responsible for 71% of total advertising-generated profit at an average profit ROI over 3 years of £4.20 per £ spent, the highest ROI of any media.  
Broadcast TV advertising has incredible reach and continues to air some of the most widely watched live events. It continues to be a great way to get your message in front of a wide audience and expand brand awareness. People of all ages depend on broadcast news to stay informed and gives advertisers access to regional audiences who want to know what is happening in their community. Despite audience fragmentation, relevant TV advertising in engaging content still provides the stature and credibility that helps build brands. TV ads capture more attention and drive fame more than any other form of advertising
AdSmart from Sky has helped thousands of businesses across the UK to access the unrivalled power of TV advertising. AdSmart allows businesses of all shapes and sizes to benefit from the most trusted and effective way to advertise – reaching the right audience households, in world class content, for a lot less than you might think. Be seen with the big brands; get the benefit of TV advertising at affordable costs.
Programmatic advertising is the use of automation in buying and selling of media.  Programmatic can apply to anything from digital display to digital out-of-home, digital audio and television. From online ads and video to digital out-of-home, streaming, voice and TV, the options are considerable. Our team will help you navigate choices to optimise your brand reach and ROI.
Display campaigns serve visually engaging ads that enable your brand to reach people as they browse millions of websites, apps and digital platforms. Google Display campaigns can reach people worldwide across 35 million websites and apps, and on Google-owned properties such as YouTube and Gmail. Drive sales, leads and website traffic or build awareness and consideration for your business, product or service.
CONCEPTS & SCRIPTING
We develop messages, compelling stories and creative ideas that translate into powerful video marketing campaigns.  Our writers work with you to storyboard, script and create videos that position your brand and inspire audience engagement.
PRODUCTION
This is the fun part of video marketing! Lights, camera, action – our creative team work both in the studio and on-location to capture the images, action and stories in high quality video and stills for your marketing campaigns
POST PRODUCTION
Picture edits, voiceovers, animation, music composition and licensing are just some of the technical magic our team handle during post-production. Both the images and audio need to do the heavy lifting to create impact on screen and emotion that delivers results.
MEDIA BUYING & PLACEMENT
We work with clients with large and small budgets alike. Our experienced media planners will ensure you achieve maximum reach and have every opportunity for your target audiences to see and engage with your content and ads
ANALYSIS & REPORTING
Digital channels and TV advertising are highly measurable. Every click, engagement and conversion action that can be tracked is reported and analysed, because analysing this data will help to show what works best for your business.
YOUR TV AD, FROM START TO FINISH
Our team of creative thinkers have conceptualised, scripted, produced, and delivered plenty of different forms of video content from short form social media content to TV and digital adverts.
Our in-house crew work together to perfect every part of production, from the initial video concept, all the way to the final delivery. Here is a timeline of the our video production process, where we utilise our expertise at every step of the way to propel your video to success.
ARE YOU READY TO HIT PLAY ON YOUR MARKETING JOURNEY?
We've helped clients in a range of industries produce successful video marketing campaigns, now let's do that for your business. Get in contact with one of our video specialists to find out more about our video marketing services.