Address your customers with a message that works.
---
A well-optimised email marketing campaign shouldn't be underestimated. Through email marketing, we'll help you engage directly with your customers and drive the conversions that you need.
Email marketing can be an often-ignored area of your marketing strategy but its potential shouldn't be undervalued. At redPepper, we've designed, built and optimised successful email marketing campaigns for many of our clients. Whether your goal is to drive sales, raise brand awareness, or simply thank your customers for signing up to your newsletter, we'll create campaigns to achieve them.
Step 1
To begin, we'll establish an email marketing strategy for your business, taking into account the objectives that you'd like to achieve. The strategy will define which types of email you will benefit from. These can vary all the way from a one-off promotional campaign, to a fully automated chain of emails.
With this will also come a careful consideration of your customer's user journey. This means that we'll assess where you collect data for your mailing list and how simple it is for your customer to join or leave it. It's at this step that we'll also ensure that your email marketing process is fully GDPR-compliant. We do not provide email data but can help you organically build your subscriber lists if required.
Step 2
Next, we'll establish, develop, or adopt an existing brand voice, writing interesting copy and an attention-grabbing subject line. It's this step that will give your customers a reason to open and engage with your email.
That being said, the overall design of your email is just as important. We'll get to grips with your existing brand identity to curate a look and feel that your customers are accustomed to. Your email campaigns should demonstrate a seamless transition from your website, literature, or any other marketing material.
If you're looking to develop a new look for your brand, we're great at this too! We'll work together to develop a brand identity that can be used both in your email designs and any other marketing assets.
Each email that we create will be fully responsive, meaning that they are as beautiful on desktop as they are mobile!
Step 3
Once your email is written, set-up, and looking attractive, we'll fully optimise it to ensure the best possible outcome for your chosen objective. This includes crafting a clear, consistent, and clickable call to action (CTA). We'll also optimise and test send times. This allows us to schedule your campaign when your mailing list members are most active.
Finally, we'll track the performance of your campaign by reporting on open rate, link clicks, conversions, and more. Through careful comparison and frequent testing of these features, you'll be able to gain a better understanding of how and what your customers react best to.
For a better understanding on how email marketing could help your business, take a look at our beginner's guide to email marketing below.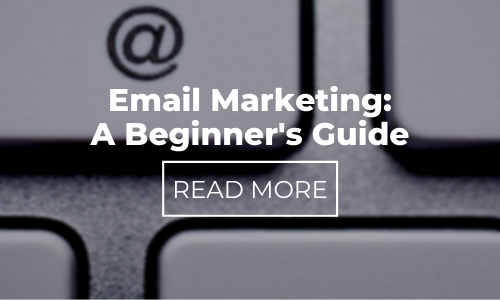 BOOK A MEETING
Throughout our email marketing process, we keep your business goals at the forefront of our mind. Email marketing is largely about testing what works and what doesn't work. That's why we adopt a flexible approach and carry out A/B testing to understand the best way to hit the mark with your customers.
Email marketing can drive the conversions you need, while also building customer trust and loyalty. Through its direct approach, it continues to be a great way to communicate with your customers and achieve your business objectives.
Copywriting
When their inbox is flooded with emails, what's going to make yours stand out? We craft interesting but on-brand copy to grab your customer's attention from the get-go.
Design
With a focus both on aesthetic appeal and user experience, we'll create beautiful, responsive layouts that drive users to complete your desired call to action.
Optimisation
Through a test and trial process, we'll optimise your email campaigns to include a clear CTA, effective links, and be sent out at a time most appropriate for your customers.
Automation
Sit back, relax, and let the emails do the work. We can build automated email responses so that your customers automatically receive relevant information in response to their actions on your website.
Reporting & Analytics
After each email campaign, we'll produce a full report, detailing the statistical response from your customers. Using this data, we'll tweak future campaigns to ensure continual improvement.
GDPR Compliance
The way that your business collects and stores data is more important than ever. We'll advise you on the best way to ensure that your website and email marketing processes are GDPR-compliant.
Are you looking to refresh your email marketing campaigns? Are you just getting started with email marketing and need a helping hand? Get in touch with our team of digital marketers today to get started on your journey to better communication with your customers.
Can't find what you're looking for?
We are here to help! Just enter your email address below and someone will be in touch shortly.