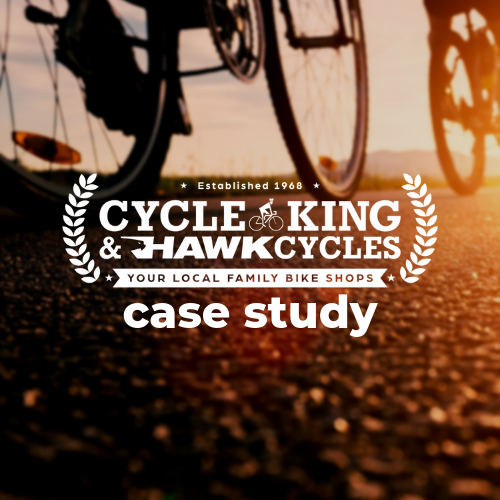 Cycle King

Cycle King & Hawk Cycles are a cycle retailer, first established in 1968. Passionate about serving every local community they are part of, Cycle King have 23 stores across the south-east and central England. Our work for Cycle King began in 2016 and we have since established a great working relationship with them as their marketing agency. We respond rapidly to their needs and provide quick turnaround on campaign design and implementation in this fast moving retail sector.
Strategy
At the start of our journey with Cycle King, the use of story marketing techniques were crucial in unpacking the target market and establishing defined customer profiles for their marketing campaigns. The company is focused on families, leisure, fun and the cycle to work market. The team work closely with them to generate a diverse range of campaigns across both traditional and digital marketing channels that drives both online and in-store sales throughout the year.
Strategically, we have worked closely with them to ensure that their family values and focus have been retained. The colour palette and tone of voice was refreshed to breathe new life into their brand and to continue to position them strongly within the market offering fantastic value and a massive range of products for all the family.
Digital marketing
Digital marketing channels play a key role in the marketing mix for Cycle King.
When we first started working with Cycle King in 2016, their social media presence was small. We've worked with them to improve the quality and reach of their social media efforts, such as growing their follower-base and driving traffic to their website.
We've seen continuous growth in their channels throughout the last 3 years, culminating in a growth of 54% in their Facebook likes and followers in 2018. Cycle King's online presence has grown as we've encouraged them to explore a range of new digital avenues including paid advertising, social media competitions and expansion into previously unused social networks, such as Instagram.
We share engaging and creative content regularly across all of their social media networks, monitoring likes, comments and messages in order to maintain a cooperative relationship with customers. With a large focus on driving traffic to their website, we curate attention-grabbing copy and bespoke graphics and video to target this objective.
Here's an example of a recent vox pop-style video that we produced for Cycle King.
We also run regular competitions across Cycle King's social media networks, using paid advertising to increase reach and directly target their desired audience. Our social media competitions are well strategized, but also creative. They're designed to entice followers to get involved while also achieving their key business objectives. Take a look at this recent competition example, designed to increase their social media exposure and heighten brand recognition.
We regularly run paid social media advertising campaigns too. These are constructed and monitored by our digital team to ensure a good return on investment (ROI). These ad campaigns coincide with our other marketing efforts, often designed to advertise a particular sale or promotion using creative copy with a clear call to action (CTA), and eye-catching visuals.
Copywriting
We've developed an informative, but relaxed tone of voice to be used across the various marketing services that we provide to Cycle King. We produce both pre-scheduled and ad-hoc social media copy, regular blog posts and articles, website copywriting, copy for email marketing campaigns and traditional marketing copy found on posters, brochures and more.
Email Marketing
Email marketing is used strategically to complement their social media and paid advertising campaigns. By adding email marketing to the services we provide, we can ensure we're hitting a larger proportion of their desired audience. We have worked closely with their team to implement and maintain good practice within GDPR guidelines and make their email marketing a valuable channel for the business.
Our marketing emails contain carefully considered and innovative design layouts and copy. Through this, we've developed a strong brand identity across our marketing emails ensuring instant recognition and familiarisation for their readers with the Cycle King brand. We also fully optimise each email, automating it to deliver at a time that suits their specific audience, and the email's particular subject.
Design & Print
Over the past three years, we have expertly executed print and design jobs for over 90 of Cycle King's campaigns. These have included both digital assets and traditional marketing, for in-store purposes. Through the quality and sheer volume of the assets produced, we've proved a capability for sustained and high-volume amounts of design and print. We've also had to work with very tight deadlines and are experienced in moving from strategy to finished and delivered print assets in under 48 hours.
The print assets we have produced for Cycle King include store-front signage, building wraps, POS, price tickets, posters, leaflets, brochures, and more. We've also regularly produced a number of digital assets to be used across their website, social media networks, in pay-per-click (PPC) advertising campaigns and email marketing.
We've developed a strong brand identity for Cycle King, and all design and print work has been kept in line visually with the remainder of their marketing collateral. As a result, we've strengthened their visual consistency and brand recognition across all platforms.
Retail Marketing
Retail is challenging, but Cycle King continue to be strong, bold and innovative in the market, which keeps them at the top of their league as the UK's largest, family-owned, cycle retailer. Their management team are full of energy, vision and drive, which is the key to their success both on the high street and online. Our work with them is a dynamic partnership hallmarked by trust, honesty and responsiveness.