We helped make this brand's Christmas a whole lot merrier
Featured Project
Cycle King:
Planning, concept creation and execution of Christmas 2021's marketing 
In 2021, we were delighted to work on their Christmas marketing campaign, a period of key importance for the client. The campaign centred around a variety of their products and services, but predominantly focused on their 'Christmas Club', a scheme which allows customers to reserve a bike in advance for Christmas.
In this case study, we'll explore some of the challenges we faced, how we resolved them and the positive impact that our campaign created for the client. If you need an innovative marketing campaign to energise your business, we'd love to help. Get in touch today!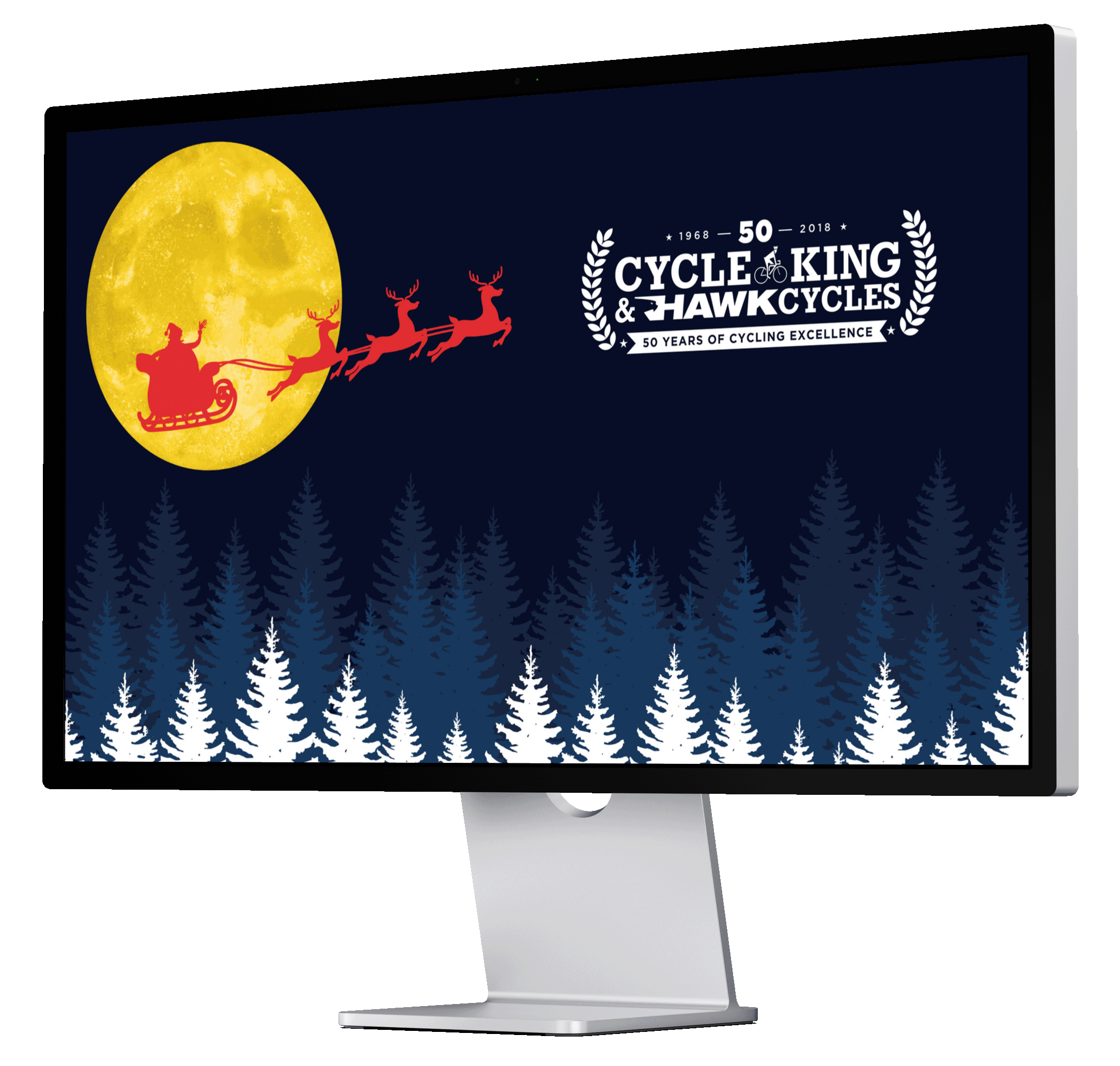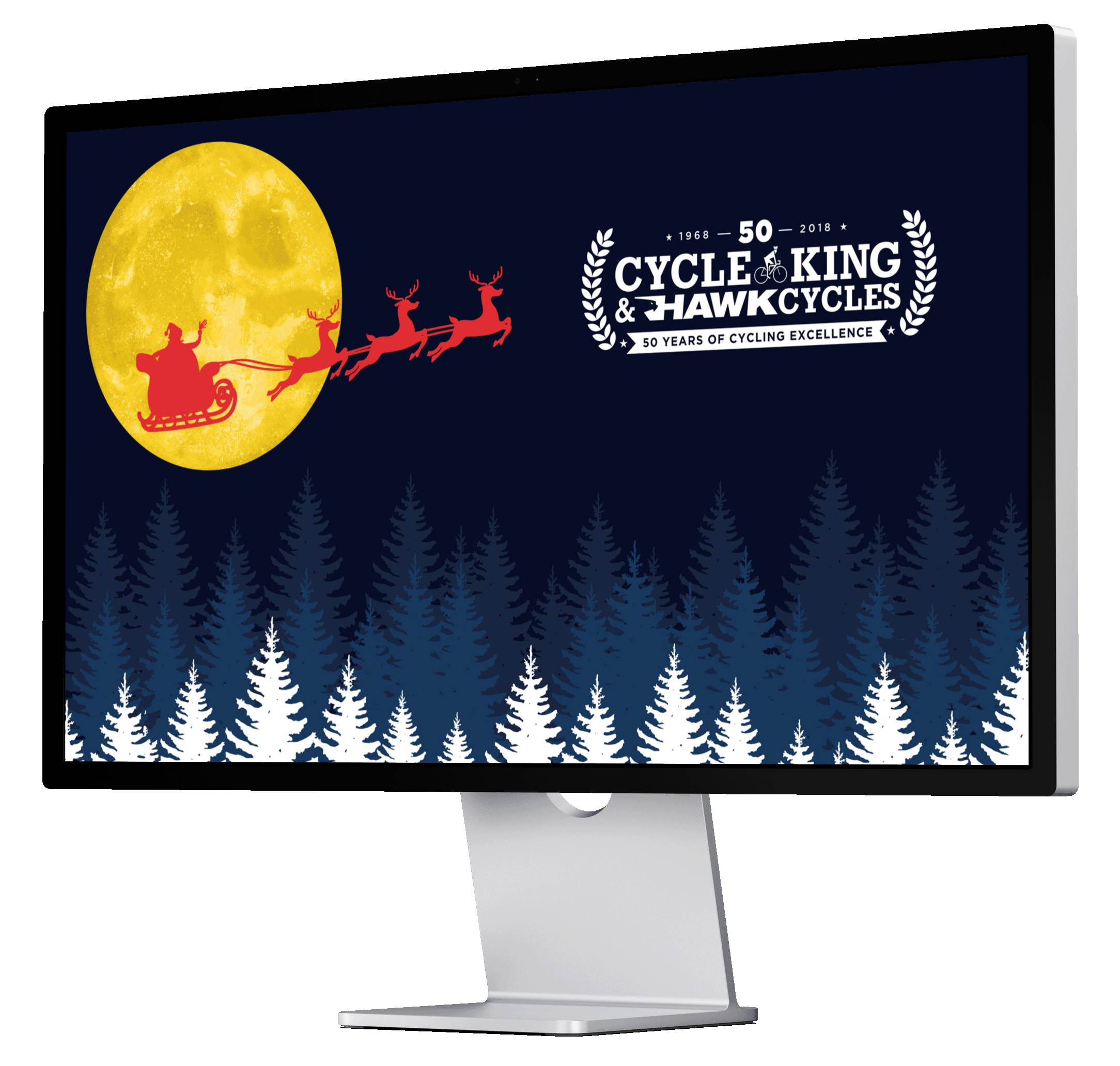 During our early planning sessions, we developed the strapline for the campaign. We settled on 'Everyone's invited this Christmas'. This was a created a sense of celebration following from the feeling that Christmas was 'cancelled' in 2020 due to the COVID pandemic. This year, nobody will miss out.  'Everyone's invited' to the special 'Christmas club' scheme.
Using Cycle King's existing branding elements, we created a branded logo to keep with the familiar and recognisable branding, that Cycle King's customers seem to love and trust. This was maintained throughout all marketing collateral/channels, so that the campaign was consistent and instantly recognisable.
This was carried forward into printed assets across Cycle King's stores, again establishing consistency. The key selling points which really grabbed the target audiences' attention were 'reserve a bike' and 'we'll store your bike until the big day'.
With the team's knowledge of the retail industry, we used plenty of white space to ensure that the posters stood out in their windows during darker evenings. Key to retaining attention and maximising reach, even through the night!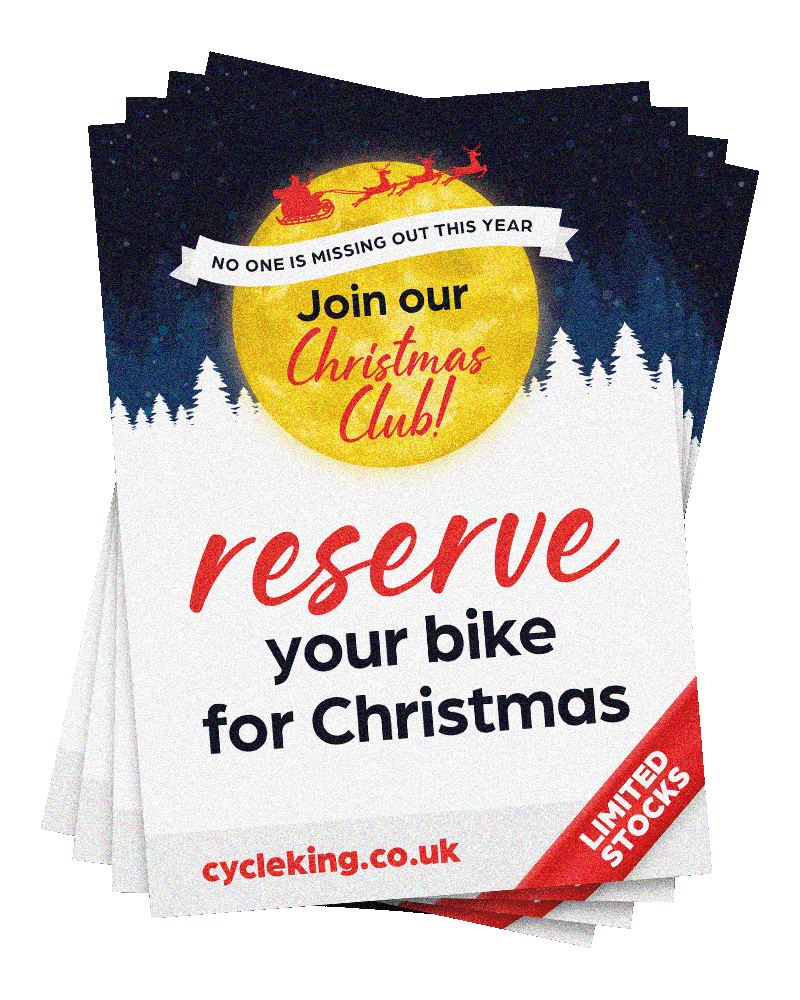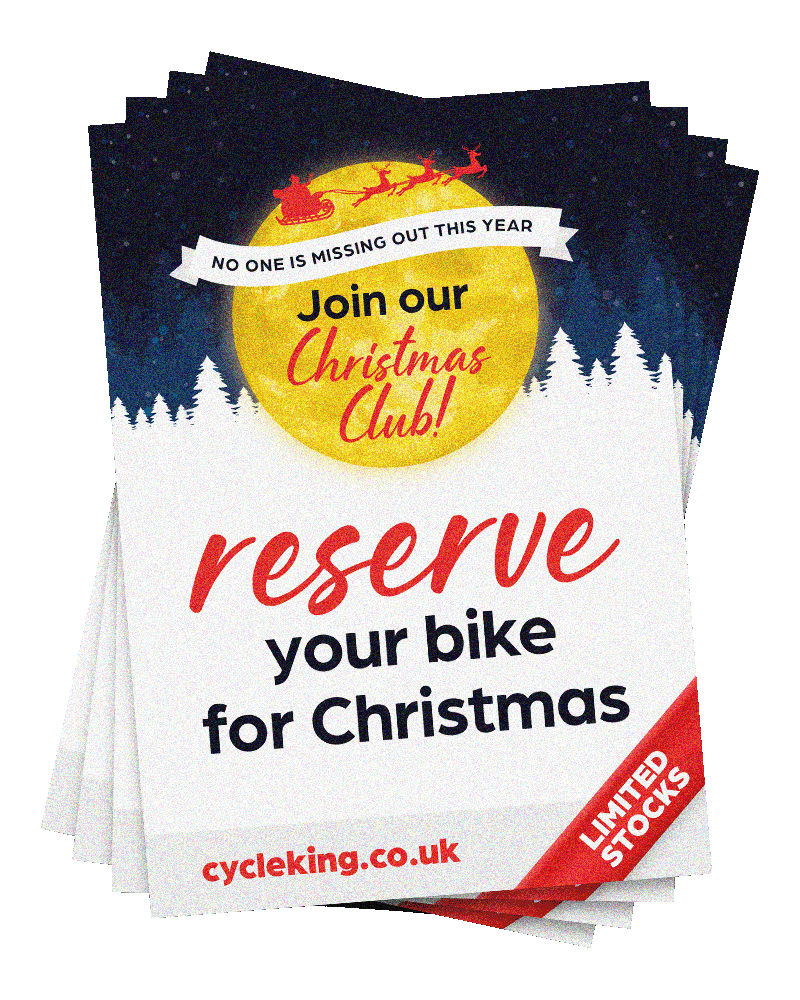 Our talented team put their creative thinking caps on and carefully planned and storyboarded a digital video advert. The carefully crafted story starts with a young girl, excited and planning a Christmas party for her family and friends. The party represents the coming together of the local community after the pandemic, a key brand value of Cycle King's- family and community. We used local actors and extras to reinforce the 'local business' element of Cycle King.
From this, we were able to create mini snippets of the video across many formats including: social media, social media stories, website video, email marketing and much more. We saw greatly positive feedback on the video through various engagement forms, particularly shares and comments.
The bespoke music created for the video encouraged emotion in the right places and enhanced the storyline further. We know that emotion is a key part of people's favourite Christmas adverts and the reason we all wait in anticipation of sitting down to watch Christmas adverts.
On organic social the video generated a 5.7% engagement rate (Between 3.5% and 6% is classed as high engagement rate)
We had lots of fun creating a dynamic range of different posts to test their effectiveness. This included video posts, stories, carousels and reels.
Through Instagram and Facebook shopping we were able to encourage users to purchase through 'tap to shop' posts, which were great for small items and accessories such as stocking fillers, a key impulse buy around the festive period. We understand that bikes require a lot more thought and a more defined buyer process.
Using inventive copy and graphics, we generated posts that felt relatable to customers during the Christmas season. These touched on the pain points such as: the stress of Christmas shopping, finding a good Christmas gift for the 'difficult-to-buy-for family member' and buying stocking fillers and Secret Santa presents.
Social media across the Christmas period generated an ROI of 190.46% for the client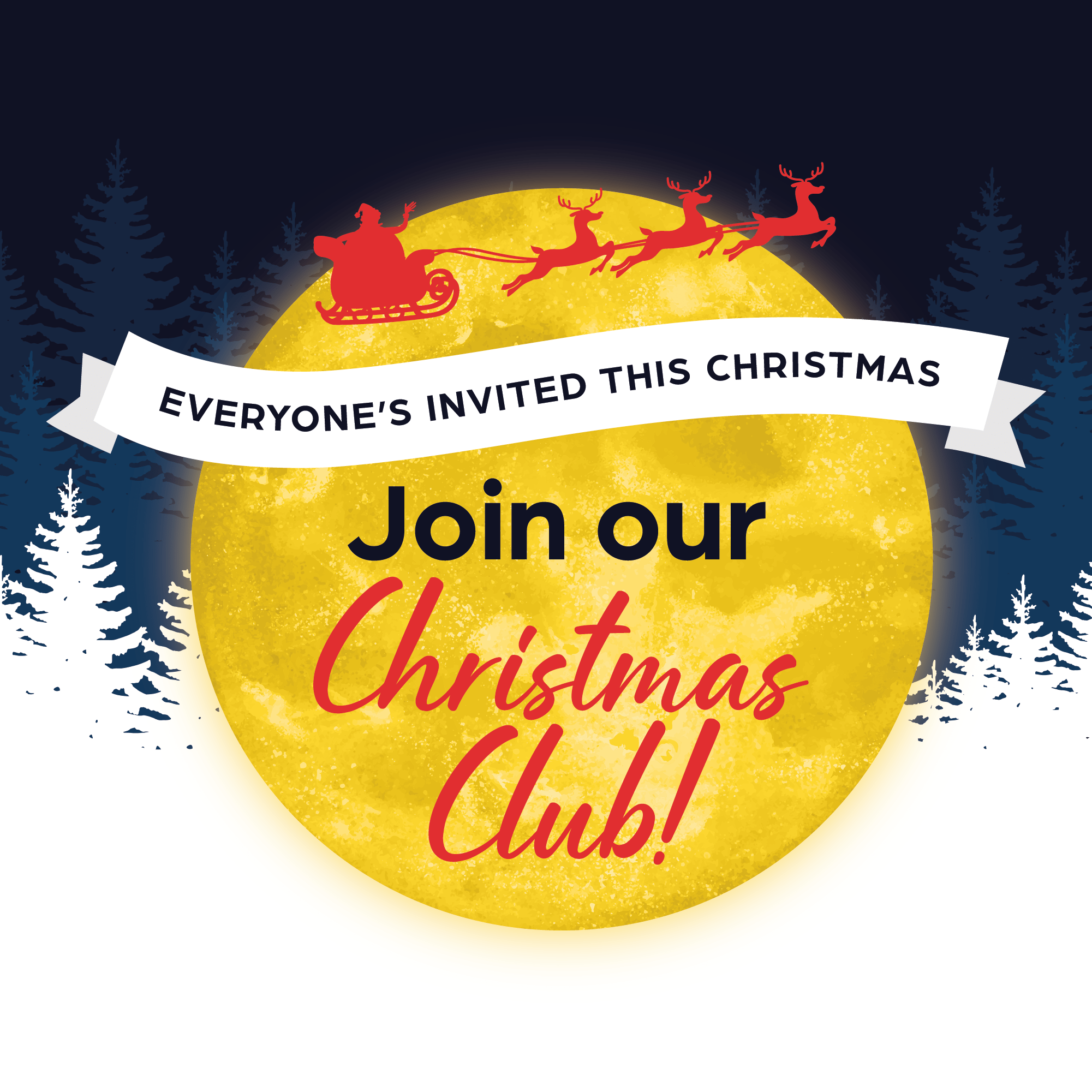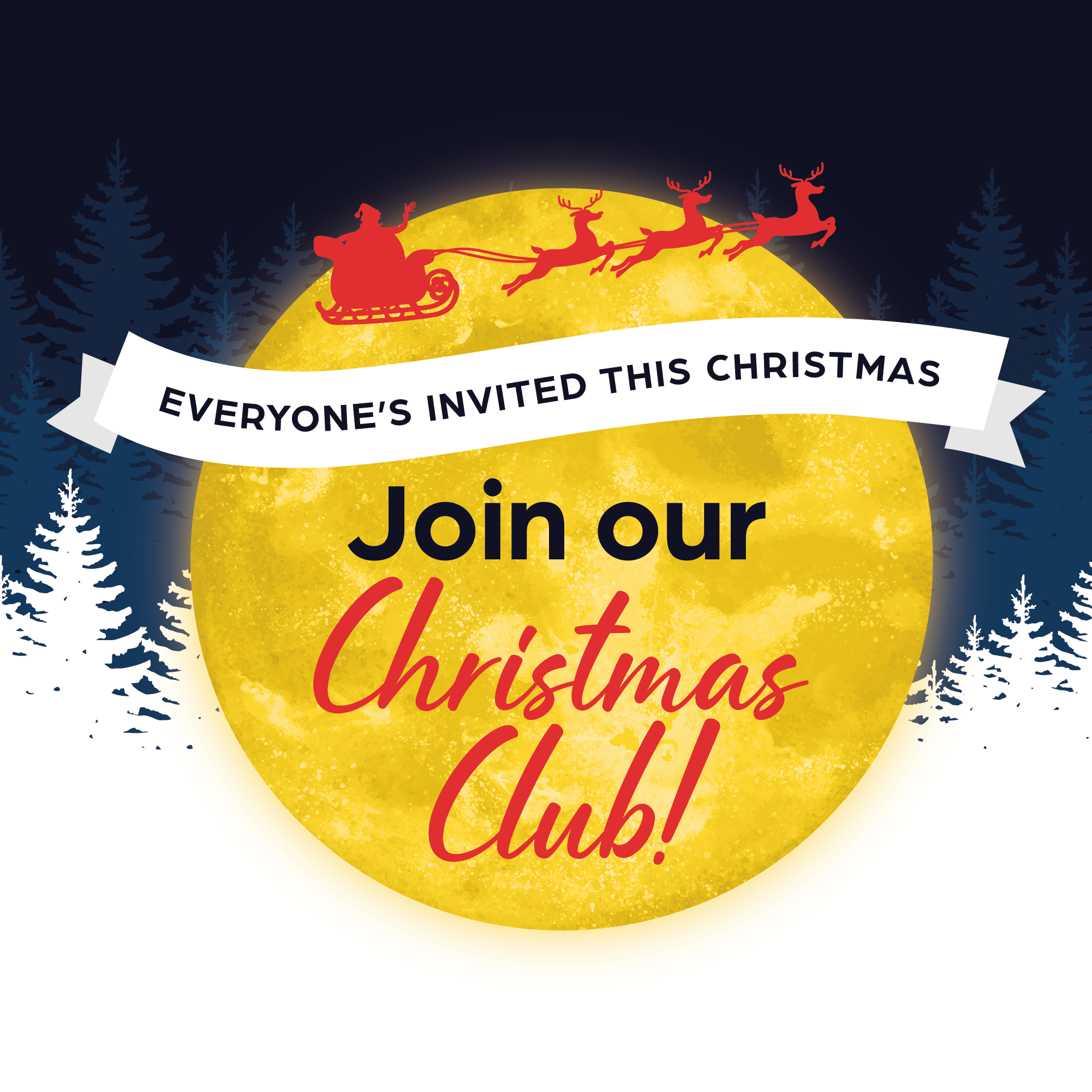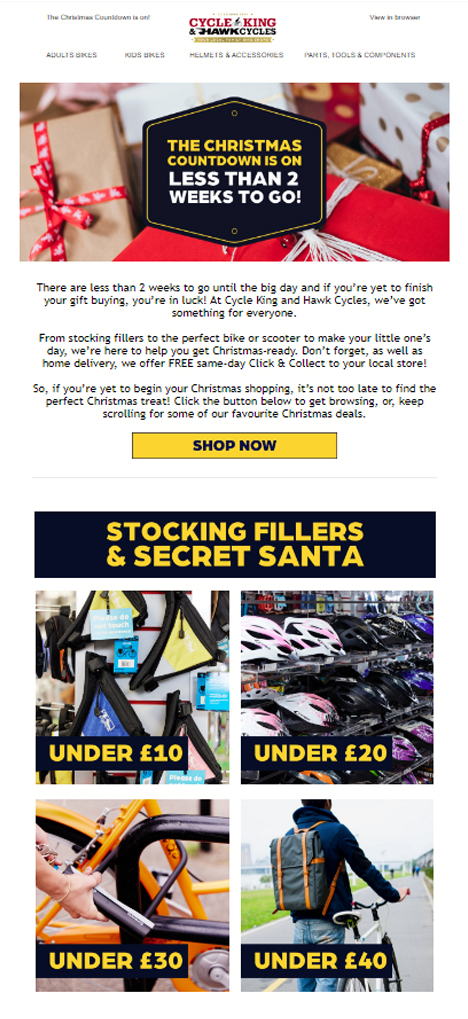 With lots of great content to work with, we were able to put together a clever series of email marketing campaigns to keep the customer intrigued and ensure Cycle King were top-of-the-mind during the present-buying period.
The first email campaign introduced the Christmas club and highlighted a selection of the bikes now available to collect. This email hinted that the bike stocks were very low this year and the customer should reserve early to avoid disappointment.
This campaign was particularly successful generating a cost per website session of just £0.60
The second featured the Christmas video, along with products and gift ideas to suit any person. The campaign played into the 'Everyone's invited' theme, providing products for 'trend setters', 'adventure seekers', 'commuters' and more. This was a relatable campaign, solving the paint point that is, buying for the 'difficult-to-buy-for' person in your life.
The third was sent with less than two weeks to go, therefore moving away from the 'Christmas Club' idea, and more towards those last-minute presents. This included stocking fillers, Secret Santa must-haves and kids' bikes that had just landed in the stores.
In total, the email marketing generated a cost per website session of £1.19 for the client.
Pay-Per-Click (ppc) Marketing
Our Digital team chose to run a PPC campaign on Facebook Ads, as this paid social platform typically responds well to video advertising. We ran a campaign with the objective of optimising video views, and chose our target audience based on demographics such as their age and the likelihood of our advert being relevant to them. As an experiment, we created two ad groups which A/B tested different versions of the advert: the full-length version and a shorter version.
Interestingly, our findings did not differ much between the short and the long advert: they had a cost per thruplay* of £0.03 and £0.02 respectively. Overall, we were extremely pleased with the campaign, which saw the following results:
The campaign generated an average cost per thruplay of £0.02, with a total of 24,413 thruplays.
The campaign reached 87,757 people in total, and generated over 220 clicks to the website
*a thruplay refers to the viewing of 15 seconds or more of a video, or 50% of the video when the video is less than 15 seconds
The campaign saw a generated ROI of 137.47% for the client which equated to an increased conversion rate of 61.11% and increase in revenue of 10.05% from the previous year.
This was down to successful planning with room for flexibility to adapt our approach if the pandemic or ever-changing retail industry required. By building an excellent relationship with the client, we were able to work closely to navigate the changing stock levels and availability to ensure that our campaign was adjusted appropriately.
Our success was due to an established dynamic partnership hallmarked by trust, honesty and responsiveness.