When did Office Dogs become popular?
An office dog has become a staple in many workplaces around the country. If you've already employed a pooch, then you'll likely know how great it is to have their company, but for those who haven't, read on to understand why you're missing out!
Benefits of an Office Dog
At redPepper, our office dogs Sky and Biscuit do a good job of keeping motivation high and provide us all with a laugh now and again. The whole team would likely feel a bit lost without them both causing some chaos, which is why we're big advocates of office dogs.
Dogs improve workplace productivity
Recent research from the Kennel Club suggested that 33% of people have noticed their productivity increases when around an office dog.
Not only do dogs get attention from other hoomans, but the attention they give back can motivate the workforce to an extent a manager might struggle to.
They reduce stress in the workplace
Any job comes with its daily stresses, but the presence of an office dog can combat this.
Their friendly attitude and funny antics in the work environment can help remind people to destress for a minute, giving them the time to take a step back and breathe.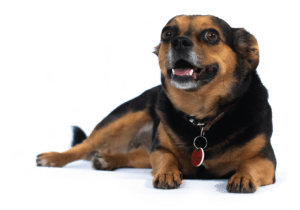 Why you need an office dog on your team
A dog-friendly office can help to take some pressure away from dog parent duties.
Reduces the stress of owners leaving their dog/s at home
The option to bring in your fur baby makes looking after them a whole lot easier.
If your colleagues also bring in their dogs, they have an opportunity to interact with others and have some carefree fun whilst you work away.
Take a break from the screen
It's easy to get bogged down in work and forget to take a break. How many times have you forgotten to give your eyes a rest? *cue the evening headache.
Taking a second to give the office dogs some attention not only improves your little helper's mood but makes focusing on the task at hand easier once you've had a short break.
Need more persuasion?
The addition of dogs to the workforce can make you a more attractive employer.
The relaxation of policy in letting dogs enter working premises has led to people becoming more motivated, as shown by the University of Lincoln, who discovered office dogs can result in a 22% increase in work satisfaction and a 14.4% increase in engagement at work.
If you're looking to hire new team members for 2023, an office dog could potentially be the deciding factor for them to join. It is generally perceived as a more open and modern practice to bring your dogs to work, meaning you can attract the best talent to join your team with the incentive of bringing their furry friend along.
Do you have an Office Dog?
If you have an office dog and know that they're deserving of an award in recognition of their hard work this year, enter our Office Dog of The Year 2022 competition!
Entry is simple, follow the instructions below:
Take a cute selfie of your dog
Post to LinkedIn, remembering to tag '@redPepperMarketing' and use the hashtag #officedog2022
Follow us for prize announcements and the winner of 'Office Dog of the Year 2022'
You've got until the 5th December 2022 to enter and be in with a chance of winning some cool dog and human prizes, so enter today!