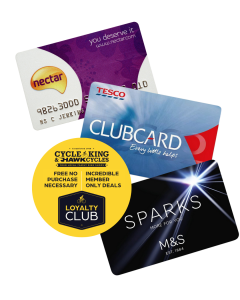 Loyalty schemes have been a feature of the UK high street since the 1960s. First to appear was the Green Shield stamps of which Tesco was one of the biggest users before introducing their Clubcard scheme in 1995. These schemes are a great way for businesses to reward their customers and encourage repeat purchases, leading to increased customer loyalty. However, there is more than just loyalty at stake here.
As the name suggests, loyalty cards aim to provide an incentive for customers to purchase more often from a particular shop or chain, a value-added proposition for retailers who are fundamentally offering the same brands and products as their competitors. It changes the conversation from price alone and, it could be argued, increases complexity in the consumer decision making process making it harder to do a straight comparison. The result, the customer gets that warm fuzzy feeling this must be a good deal and purchases without doing the true maths.
In today's harsh price conscious retail environment, we have seen a move away from points rewards to direct price discounting for loyalty club members. Tesco were the first to introduce this in the form of Clubcard deals, exclusive pricing for members. Whilst this was not a new concept, it fundamentally changed the value proposition for consumers. As market leaders in Loyalty Scheme marketing, other major retailers including Sainsburys have followed suit.
We can expect to see the pricing war hot up through loyalty schemes. However, you may gain discounted prices, but privacy is the price. From a retailer's perspective, loyalty cards are not just about adding value to the sales proposition. Loyalty cards enable retailers to collect valuable data about their customers' shopping habits and preferences. Combined with powerful demographics, this data allows a retailer to tailor marketing activities around the needs of their target audience and potentially increase brand loyalty, share of basket and repeat purchases. It is highly cost effective compared to other marketing channels.
The power of marketing really begins to be enhanced when data is available and the opportunity to tailor offers to consumers based on habits and lifestyle, all of which are indicated through purchase history. In today's retail environment, data is King! For example, if a consumer starts buying puppy food, then the obvious up sell is Pet Insurance and hence follows the coupons and email automations to the consumer triggered by this event.
Loyalty cards can be a great way for businesses to reward their customers and increase customer retention. They offer valuable insights into consumer buying habits that can help shape future marketing activities. Ultimately, the success of any loyalty card scheme depends on whether it provides value, not just to the business but also to the consumer. The customer wants to be rewarded for their purchase and the retailer wants the opportunity to remain in a relationship with them every step of the way – the ambition of a successful retail marketing strategy.
If you need fresh thinking on your marketing strategy, book a meeting with the team at redPepper now.