Another rip off war looms as Aldi head in to do battle for the lucrative chocolate munching kiddies' market against Cadbury's much loved Freddo milk chocolate.
The innocent frog milk chocolate bar was launched in 1930 and has been a firm household favourite with multiple cousins including Freddo Faces, Freddo Drinking Chocolate and the Freddo Biscuit. As Cadbury's say, "Everyone knows chocolate is more fun when it's frog shaped!"
Aldi have picked a war with Cadbury's ripping off everything apart from the shape with their new Deeno the Dinosaur chocolate bar. Brand colours and fonts match closely as does their fake name as the packaging attempts to mimic the iconic Freddo look.
Cuthbert causes copyright controvery 
It isn't the first time Aldi have cherry picked top brand items to create fakes. Marks & Spencer Colin the Caterpillar was the subject of legal proceedings with Aldi when they had the audacity to launch Cuthbert, their own caterpillar birthday cake.
After a protracted legal battle and out of court settlement set Cuthbert free to roam the aisles. But will Deeno go down the same path or will Cadbury's come out fighting to keep Freddo safe?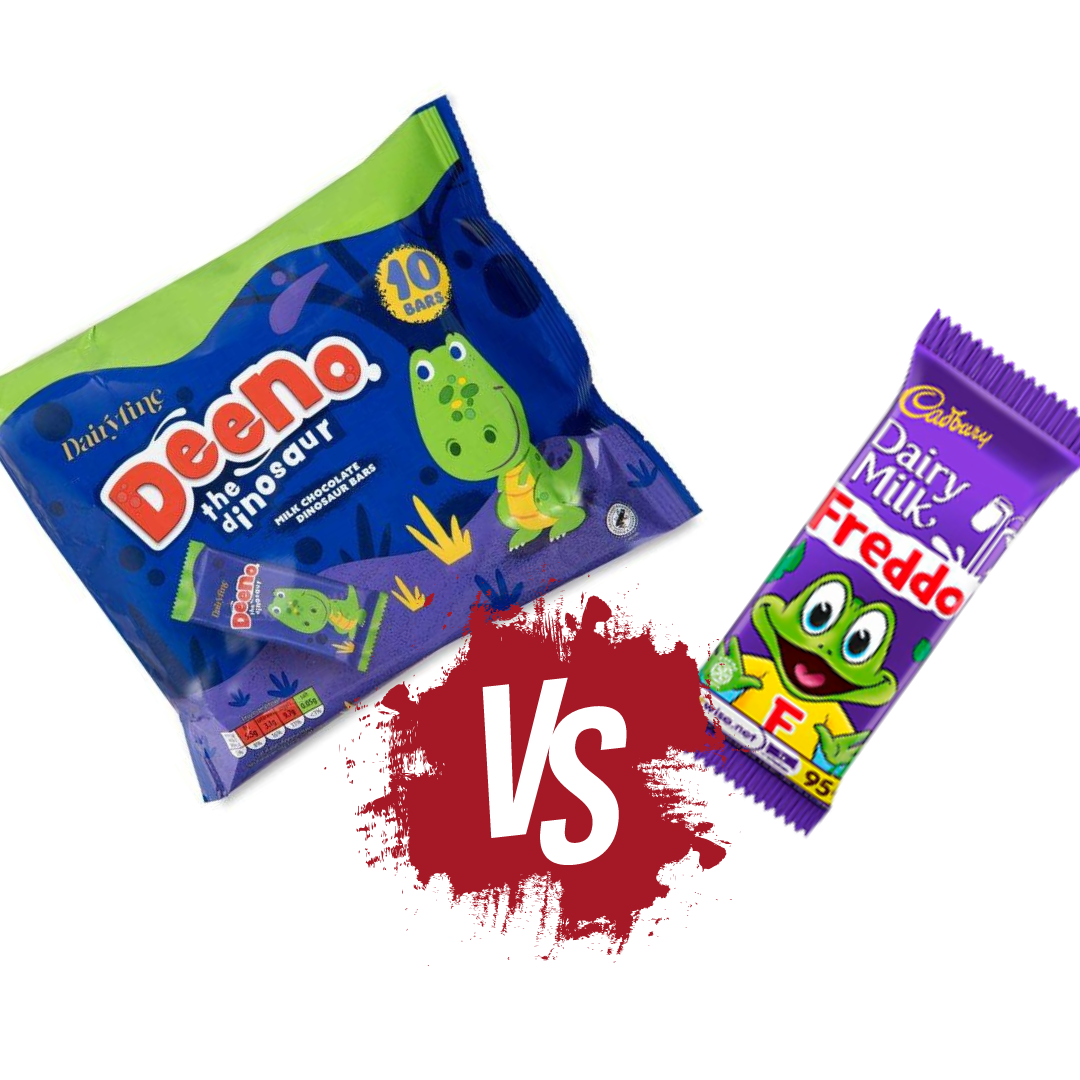 From a marketing perspective, you could say that all publicity is good publicity. However, brand owners need to take care as directly ripping off a competitor's product can be expensive. Legal costs for infringement of trademark aren't cheap.
Cadburys are well protected when it comes to having all the right trademarks in place, Class 30 being the key one when it comes to all things chocolate (trademarks.ipo.gov.uk). Even a colour can be trademarked under extremely precise circumstances. In 2011 Cadbury's won a three-year trademark battle with Nestlé over the use of its iconic colour purple on packaging.
Why do company's create rip off products?
It's simple, profit. In some cases, products can go under the radar for some time before a competitor sees and sends an initial warning letter to cease and desist. But high-profile cases like Freddo vs Deeno benefit a higher desire of a retailer to be seen to be the champion of lower prices just like this case where Deeno is coming in 25p lower on a 10-bar multipack.
Naturally, consumers will be split in their opinion between those that love the savings and others who are adamant that when it comes to taste there is no comparison. But let's be honest, are 5-year-olds really that discerning when it comes to chocolate. At just 18 grams the chocolate bar will be gone too fast for the young taste testers to even notice!
If you need advice on your competitive product strategy, the redPepper team are here to help. We love chocolate, so let's make our first meeting a taste test between Freddo and Deeno while we talk all things marketing! We'll bring the chocolate.
Listen to Michelle chat with BBC Radio Essex about Aldi's previous brand battles below: