With the big day fast approaching, the last-minute buyers are on the hunt for something special, and it's a race against the clock. That's why your social media presence is incredibly important for your business at this time of year. It's also a great time to connect and engage with your audience, not only to drive sales but to spread the Christmas cheer!
Our Social Media & Audio-Visual Executive, Natalia Dziewiz, graduated just 4 months ago and has been working alongside David and Erin to carefully craft social media strategies. Read on as Natalia shares a variety of ideas that you can add to your Social Media Marketing Strategy!
Content Ideas
1. Gift Guide
Have you ever had the feeling that a social media post was made for you? Like your phone has been listening to you complain about your never-ending list of family members to buy for? Posting gift guides may just be the inspiration your customers need, at the right time.
By using eye-catching visuals, compelling descriptions, and high-quality images, you can effectively appeal to your target audience. Pick which products you want to boost and tap into your targeted customer profiles by understanding what they want, when they want it and why! Are they in a rush? On a budget? Organised and just picking up stocking fillers?
Whether the guide is promoting a range of products, or a selection of stocking fillers, be sure to pick a format that works for you. Why not mix it up and try a reel, carousel, or story post, and make sure you link each product directly to your social media shop or website!
Cycle King Stocking Stuffer ideas
Here's one we worked on last year. By mentioning the budget clearly and concisely, we were able to ensure we appealed to the desired audience – those last-minute Christmas Eve shoppers!
 2. Contests & Giveaways
Customers are always on the lookout for competitions, especially when money is tight. That's why hosting a contest or giveaway can help with your SMM around Christmas time. They're a great way to interact and engage with your target audience, which provides you with a better understand of your audiences' needs! Make sure to consider what you want from the competition before posting. Whether the goal is to gain more followers, creating awareness of a deal or increasing traffic to your website, there are clever tricks you can play to achieve these goals.
Want to take it a step further? Create a video promoting your competition to reach a larger audience. Although, please note, it's not all about the number of views, especially if you're a local business. Instead, pay attention to the demographic you're reaching and how these views convert into engagement or better, leads/sales.
Ensure you use this method in conjunction with other content ideas, to promote your Christmas range to your new followers.
3. limited time offers
With 80% of UK customers shopping online, matching, or beating competitors' prices is more important than ever. Use festive graphics, humour, and bright colours to make a good impression on your audience and offer limited time offers to make your customers feel special.
One idea we love are social media Advent calendars. These are particularly great on Instagram, to create an attractive aesthetic on your grid, but also work well on Facebook too! Design each post with your unique branding and cleverly promote offers or discounts that keep your brand top-of-mind. You could even throw in some freebies, if possible, for your brand. They're engaging and give your audience a reason to follow and keep coming back to your profile. Also, who doesn't love an Advent calendar?
lipolife's 24-Day Advent Calendar
Last year, we worked on a digital advent calendar for lipolife. It contained top tips, product features, competitions, exclusive free trials and nutritional advice. It was a great strategy to get followers ready for Christmas, without making their content look festive.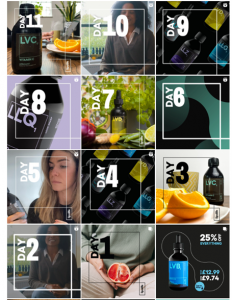 4. Christmas Countdown
The easiest way to catch your audience's attention is through a Christmas countdown! Use it to promote offers or your products/services. You could post this to your regular feed or keep it for your stories instead.
Marks and Spencers – #50DaysofChristmas
Last year, Marks & Spencer's used a 50-day countdown Christmas, which promoted their exclusive Christmas food range. M&S are often known for their attention to detail, especially at Christmas. This was a great effort to showcase their mouth-watering goodies.
5. General christmas-related content
Researching and sharing intriguing christmas facts, is a great way to boost your engagement and encourage shares to followers' stories. You can use them as graphics in your content or as captions, or even as polls on your stories. Bonus points if you can find some facts that link to your business!
Gift wrapping videos are very popular around this time of year. Whether you're promoting a gift card, bike, or book, create a tutorial on how to wrap that item. These are quick and easy to create and may help your audience more than you think. A popular social media trend over the past couple years has been wrapping items as something not remotely close to what the gift actually is – such as wrapping a mug to look like a bike.
Take a look below at our recent work with Cycle King:
You could also use your niche to create ideas for Christmas content. If you're in the fashion industry, you could share 'Christmas party outfit ideas.' Whereas, if you're in the cooking industry, you could post a delicious festive food recipe such as 'Our homemade Yule Log recipe!'.
John Lewis' Christmas Spread Video
A subtle and elegant way to promote your Christmas product range! It perfectly matches John Lewis, as a brand, by providing viewers with inspiration for their Christmas table spread. John Lewis also provided the product codes of the items featured in the video, within their caption, to make it easier for their viewers to shop the range!
6. Customer reviews
Leverage your customer reviews in your SMM strategy! They provide an opportunity to create relationships with the audience, and to establish the authenticity of your brand. Use festive colours and graphics to design your background, add your review and there you go. A simple and quick way to add the festive feeling into your social media without going full on CHRISTMAS.
Hotel Chocolat Customer Review
Hotel Chocolat created a short video showcasing their reviews on a promoted product. Social Proof is a great way to help customer along their way to making a Christmas purchase.
Planning your Content Calendar
Get prepared! The last thing you want is to stress about your social media strategy during the festive period. So, use this pre-Christmas period to get your ideas sorted and ready to post. You need to build anticipation for the Christmas season! Make sure your posts are engaging, clear and festive. Look up key dates, such as Black Friday and Cyber Monday. Decide on any discounts and offers that you'll be promoting. Get organised!
The festive period gives all businesses an ideal opportunity to engage with your audience to boost your sales. You can use your social media presence to do this, by effectively planning out your content beforehand. Your content needs to stand out from your competitors and give the audience a reason to engage with and return to your profile.
If you've left Christmas to the last minute and need some help or you just want to start planning for 2024, then give us a call on 01787 223850! You can also follow us on social media to see how we approach the festive period or check out our website to see all the services we offer.